Celebrating Boccia Mums this Mother's Day
Six athletes from the competitive world of boccia say they each share an unshakable bond with their mothers thanks to the many opportunities and events they have experienced whilst taking part in the popular Paralympic ball sport.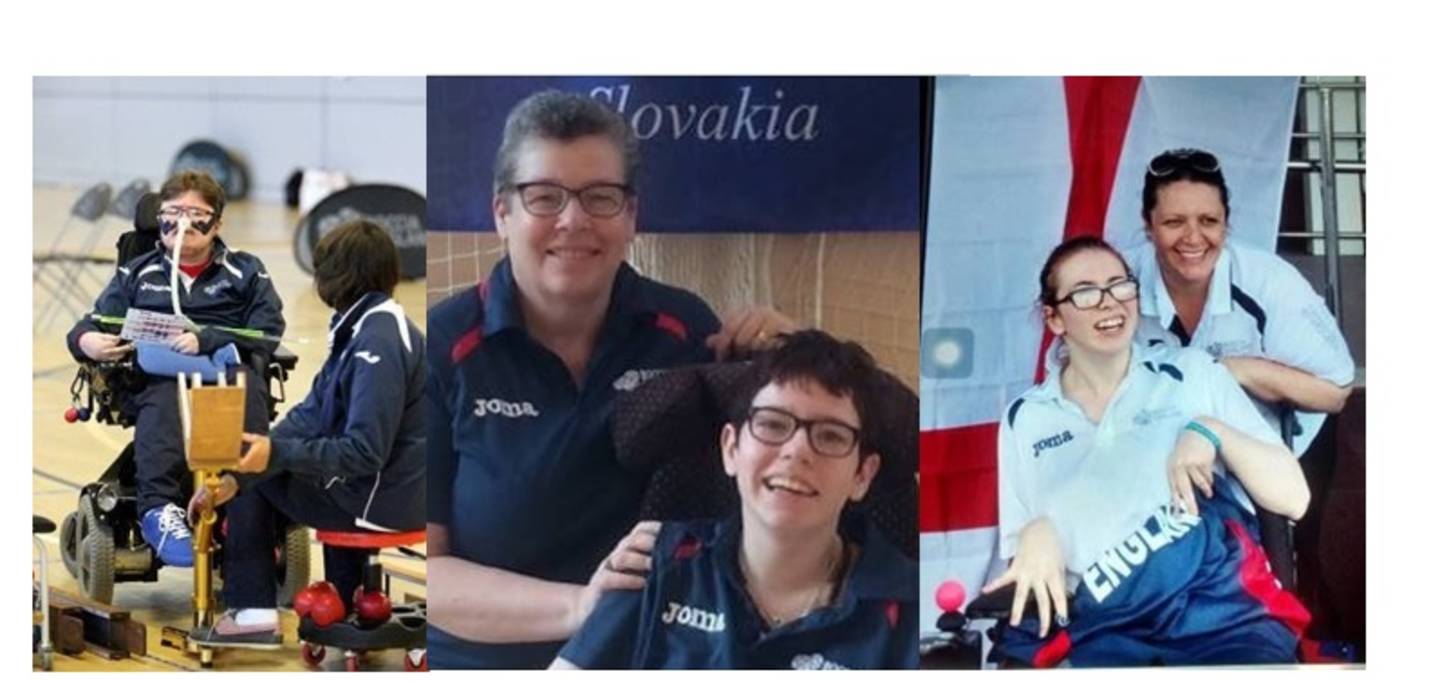 In celebration of Mother's Day 2021 – Boccia England, the sport's national governing body gathered a series of short tributes where athletes and their mums reveal fascinating accounts of grassroots to podium achievements.
A thread of parental love and support runs through each story, demonstrating that behind every determined athlete there is an equally determined parent.
"When I left for residential college at 18, my boccia career fell away and I lost my place on the England squad," says BC3 athlete Lee Maddison, from Newcastle.
"My Mam took the reins and built me back up by becoming my on-court assistant. Together we medaled at our first competition."
Showing strength, courage and perseverance Mum Jill would repeat this pattern twice more, helping her talented 33-year-old son get reselected for England for the three times throughout his career.
Other mums have taken on different roles within the sport – and for different reasons. Cassandra Turk, mum to 37-year-old Cecilia, an ex-GB squad member, has become one of the sport's most admired officials, acquiring the skill to stay in her daughter's world – but never as a spectator. She writes:
"In my heart, I am with Ce every step of the way. I am immensely proud of what she has achieved as an athlete, especially that she is still as committed as the day she aspired to winning her first medal. I will continue to wave the flag and cheer her on, but only in spirit and certainly not visually. Cecilia knows just how much I am rooting for her in every match. I am just too emotional to watch."
Boccia is a highly intense, strategic indoor ball game that requires its players to have precision and focus. Training regimes are demanding and take the utmost dedication and total commitment - not just from the athletes but from the parents who support them.
From refereeing to carrying kit, administering first aid to being an 'on court assistant' the stories uncover the extra duties a boccia parent has to take on to ensure their child is successful along every point of their pathway.
27-year-old BC2 England squad member James Clowes, from Portsmouth, admits that he couldn't do without his mum, for competition and training support, nutrition guidance and event first aid on site.
"My mum has assisted me for my whole career. She knows what I need in terms of warm up, nutrition and hydration and can anticipate what I require after a training session and a match. Mum is also a registered nurse, which has come in very helpful in a lot of occasions at boccia for both myself and my teammates."
Noticing the lack of training halls, clubs and opportunities, some parents even started their own clubs and training opportunities over the years, driving the interest in the sport forward not just for them, but for others, too, as 26-year-old Beth Moulam, a BC3 athlete from York, describes:
"Mum and I have both been passionate about boccia for over 16 years, together and separately. I was 10 when I was first invited to try out boccia and participate in our local youth games. Mum found there were no clubs within travel distance of where we lived, so with another Mum set up Boccia Epsom and Ewell (the BEEs).
"They went off and did a coaching course referee course, got local council funding and we were off together on a journey that hasn't yet ended."
Adds mum, Liz, who is extremely proud of Beth who is likely to represent GB in Tokyo this summer:
"When I saw my child participating in sport for the first time I got an all over tingly feeling, this was special and she was having so much fun, I had to find a way for her to continue. When we moved to York in 2014, we set-up Jorvik Boccia club, currently a Boccia England Super League team."
The highs and lows of their respective journeys are also spoken about in some of the accounts. Melissa Paulden, mum to 23-year-old BC1 England athlete Tia Ruel, from Berkshire, says that parenting a disabled child can be an isolating experience but being involved in sport has helped the mother and daughter to find community and acceptance.
"Helping my daughter reach her sporting goals has given us so much happiness and purpose as a mother-daughter unit. Turning up to camps and competitions felt like our second home and our network grew. We became part of something very special, sharing experiences that will stay with me for a lifetime."
Sue Berry is the only parent who now represents England on court alongside her son as his BC3 ramp assistant, a role she holds with pride.
"My son, Matt 'Bezza' Berry has persevered to be the very best that he possibly can be and is ranked second in the UK. As his Mum, and on-court assistant, I have been privileged to share in his achievements, been proud to see how revered and respected he is.
Matt's love of boccia and his total commitment to the sport has enriched my life in so many ways. I thoroughly enjoy being his on-court assistant in high-level competitions and thrive on the pressure to be the best I can be to ensure that Matt does well."
Chris Ratcliffe, CEO of Boccia England, says of the stories:
"We want to celebrate Mothering Sunday by recognising the vital role that mums play in the lives of our boccia players. Reading these stories, I am in awe of how much more our boccia mums do to ensure that their sons and daughters get the best out of playing boccia. It is wonderful that our players want to join us to celebrate and thank every mum out there for making a huge difference in our lives."
Image caption - left to right: Matt and Sue Berry; Beth and Liz Moulam; Tia Ruel and Melissa Paulden
Imcage credit: Boccia England