New Inclusive Activity Programme online training
Sadly, due to the coronavirus (covid-19) pandemic, all face-to-face Inclusive Activity Programme workshops have been stopped until further notice. In response, Activity Alliance and delivery partner, UK Coaching, have developed a new online classroom and other e-learning opportunities for the programme, so you can continue to learn about inclusive delivery and develop your skills.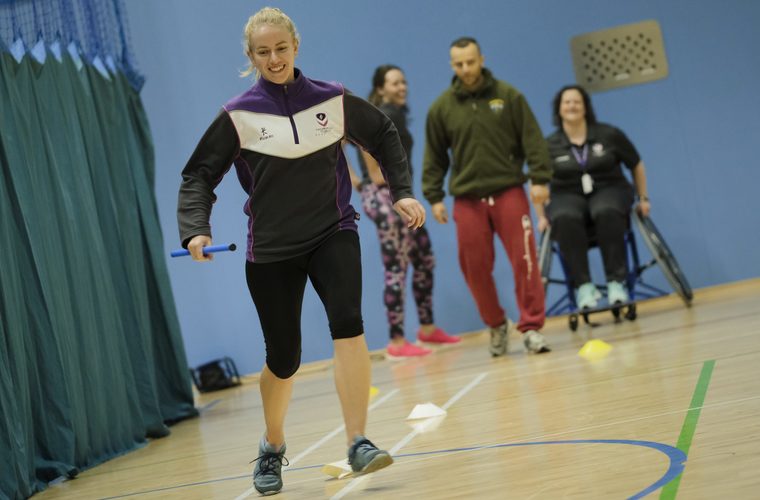 Disabled people including those with long-term health conditions are the least active group in society, and inequalities are widening further during the pandemic. Now, more than ever, it is important that organisations and individuals continue to access this specialist training.
New online classrooms
Our new Inclusive Activity Programme online classrooms offer a live and interactive learning experience. Similar to our face-to-face workshops, each online session is led by one of our expert inclusion tutors. You will learn about the key principles of delivering inclusive activities and how to make your sessions fun and enjoyable for everyone!
During the class you will:
Understand how to make your sessions more inclusive and how to adapt activities using the STEP tool and Activity Inclusion Model.
Learn about how you can support disabled people to be more active by embedding Activity Alliance's Ten Principles in your work.
Access additional resources to support your sessions and learn about further training opportunities.
Take part in the Inclusive Activity Programme online classroom for the discounted price of only £15 per learner (limited time only, regular price £30 per learner). The programme is funded through Sport England's National Lottery fund.
Online classrooms are hosted by UK Coaching, using Cisco Webex software. Each class will run from 90 minutes to two hours, depending on the level of discussion and learner interaction. You will need access to the internet and a suitable device to take part e.g. mobile phone, tablet, PC or laptop.
Webex software has several built-in digital accessibility features to ensure all classes are accessible to widest audience possible. To discuss your accessibility requirements or additional support prior to booking on a class, please email ukcoachingworkshops@ukcoaching.org or call 0845 601 3054.
Online classrooms are available for individual and group bookings. Each classroom will be small group size of 6-12 learners. Individuals can book a place on an open classroom, please see available dates below. For group bookings we will arrange a suitable time with you to host a bespoke classroom.
Upcoming open online classroom dates:
Monday 19 October 2020 at 9.15am
Saturday 31st October 2020 9.45am
To book your place on an online classroom - Visit Inclusive Activity Programme online classroom page on UK Coaching's website
Coming soon: e-learning module
We are also currently developing a new e-learning module for the programme. This introductory module will be a great way to kick-start your development, before attending an online classroom session or face-to-face workshop in the future. The module provides context around the benefits of delivering inclusive activities and models of delivery.
Once live, the new Inclusive Activity Programme e-learning module will be free for everyone to access for a limited time.
Please email our programmes team or call 01509 227753 to register your interest for the e-learning module.