Q&A: What's it really like to volunteer at sports events?
This summer, London was gripped by the World Para Athletics Championships 2017. Ten days of competition saw Great Britain take home 39 medals in total – their best medal tally for 19 years.
But what's it like to be involved in running a global sports event? We talked to Talia Jones, freelance sports journalist and blogger, about her experiences. Talia was one of thousands of volunteers who made the championships run smoothly, and is an athlete herself.
Tell us a bit about yourself.
I have a mild right hemiplegia from birth (cerebral palsy) but was incredibly lucky to be diagnosed at 6 weeks old, meaning the muscle spasticity hadn't set in fully yet. I had all types of physiotherapy from the age of 6 months up until I started school at the age of 4, having six days of physio every week. Now, I only really struggle with fine motor skills such as doing buttons and zips up, but I have less feeling in my right side so I have a tendency to injure myself and not necessarily know about it until it's too late. I am a T38 long jumper (the same as World Gold medallist Livvy Breen) and I'm aiming to qualify for the Tokyo Paralympics in 2020.
How did you first start volunteering at International Paralympics Committee (IPC) and International Association of Athletics Federations (IAAF) events?
I found the application form by chance on Facebook back in September last year, and thought 'Why not'? I had never volunteered for anything like this before but it seemed like too good an opportunity to miss. After my interview in December, I was originally turned down for the events, but received a phone call just three weeks before the World Para Athletics Championships saying someone had dropped out and asking whether I would like their shifts. Then, once the Paras were finished, I received an email with shifts for the IAAF World Championships just three days before they started – after the incredible experience at the IPC event, I certainly wasn't going to turn it down!
What do you enjoy about volunteering?
For me, it's all about meeting people from all different backgrounds and ages and merging ourselves into a little family. We all have the same outlook on volunteering – we want to help create the best games we possibly can and enjoy every single minute. It's incredible how quickly you can make friends when you get chatting to people. Despite only spending ten days together for each Championships, we created a very special bond and I even made a WhatsApp group so we could all stay in contact after our final shifts. Currently, there's 70 people from our team in the group and more are being added every day.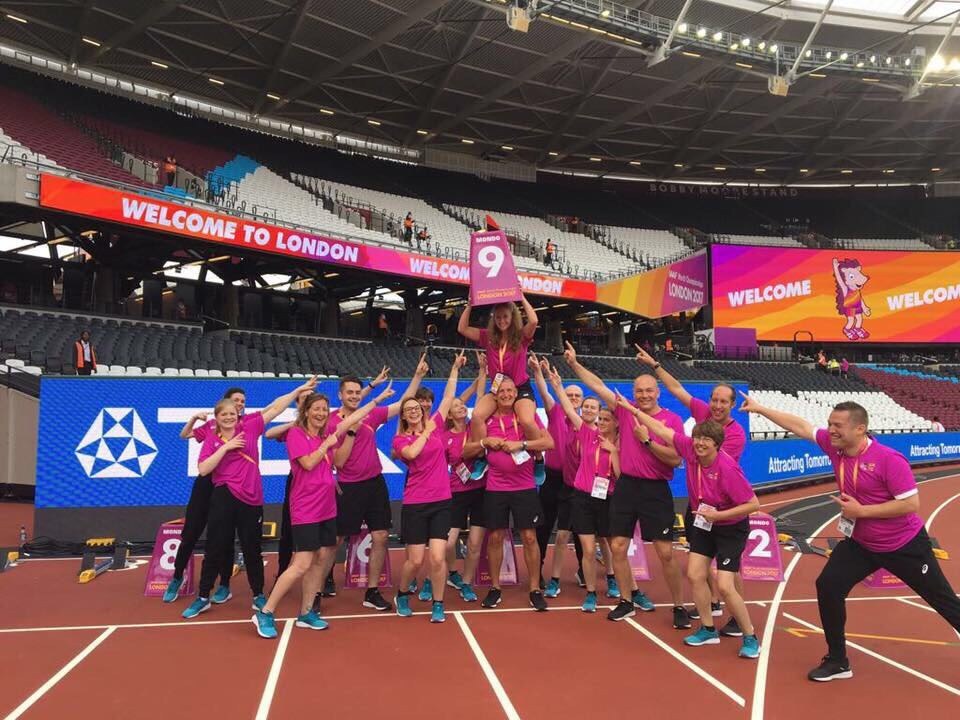 Why did you decide to record your experiences in a blog?
I am a freelance sports journalist so I enjoy blogging (you can read my blog here), but it was an experience I would never forget. It was the first volunteering event I had done and I wanted to document it so that years later, I could go back and remember even the tiniest of details. The blog was partly from a personal perspective, but was also a way to explain the whole volunteering experience to others. I was incredibly lucky to be out on the track as a starting blocks/lane marker team member, but I also tried to include as many different volunteering roles as possible in my writing.
I have been adding my blogs to the London 2017 Volunteer Facebook page and the feedback from everyone has been fantastic – they loved seeing what everyone else was up to. In my mind, the blog was never just for me, it was there to inspire and encourage other people to sign up for events like this in the future.
Which sports do you compete in yourself?
I signed up for the Paralympic Talent Scheme, Discover Your Gold, in September after watching the Rio Paralympics, thinking nothing of it at the time, but I received three trials via email a couple of weeks later for athletics, cycling and triathlon. I travelled up from Southampton to Manchester twice and then to Loughborough for the trials and was selected for phase two for athletics (meaning they will monitor my progress for the next 12 months). I have been a cheerleader for the last eight years and a gymnast since I was 6 months old, so jumping comes quite naturally to me, and have been loving long jump training since I started with Southampton Athletics Club since February.
I have competed twice so far – my first event was a home meet in Southampton at the end of May, and I jumped a best of 3.68m. I also competed at the Godiva Classic on Sunday: unfortunately, I twisted my ankle on my first practice jump but still managed to do all six jumps with the best at 3.53m. I also put a late entry in for the 100m on the day (I had not run 100m since my last school sports day seven years ago) to see what time I could get, and then put the practice in to bring the time down. I came second in my race with a time of 15.38 seconds and the sprint coaches were impressed – it was also a PB for me!
Are you looking forward to any future events?
I am competing again this weekend (ankle-dependent) at the last Southern Amateur League match of the season in Southampton, and then I'm at the Cerebral Palsy British Championships in September. Eventually, the aim is Tokyo 2020!
As for volunteering, once you do one event, you can't help but want to do more, it's infectious! I've already signed up as a volunteer for the European Championships in Glasgow next year and will also be putting my name down for the World Indoor Athletics Championships in Birmingham in March.
To follow Talia's experiences in sport and volunteering, including posts about the World Para Athletics Championships, read her blog.
Think you've got what it takes to be a volunteer? Visit the Volunteering Matters website – the UK's leading volunteering charity, engaging more than 30,000 volunteers every year.
Voluntering Matters is a partner with Get Out Get Active (GOGA) – a UK-wide programme funded by Spirit of 2012 that aims to encourage disabled and non-disabled people to take part in and enjoy activity together. Find out about GOGA volunteering opportunities.