Men's Health: "I have changed and evolved the ways that I stay active"
This month, November becomes "Movember" across the globe - the campaign that raises awareness of men's health.
In support of Movember, EFDS will feature a series of blogs from active disabled men. Today, we catch up with cyclist Wolf Simpson. Two years ago, Wolf featured in an EFDS 'Me, Being Active' video talking about cycling and his experiences of keeping active.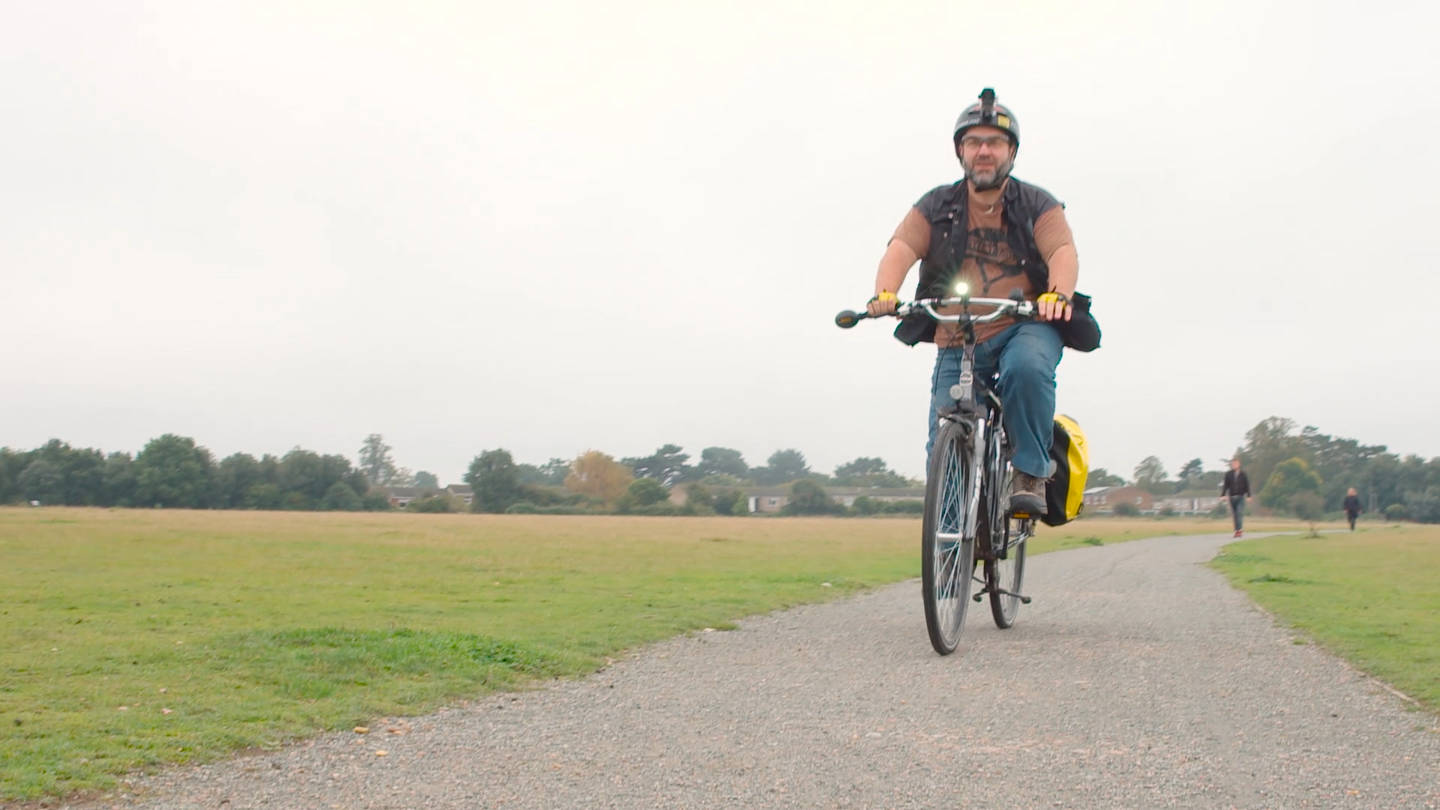 My name is Wolf, I'm in my 40s and live in Colchester.
I have various issues with my legs, which make it difficult to walk. Even after trying hard to stay stick free, I still rely on a walking stick from time to time as my disability keeps changing.
Since appearing in the Me, being active video, I'm still cycling.
Though things have had to change as I'm now having issues with both legs. I now have a more suitable bike to ride with better ergonomics. Although it weighs over 20kg, I've cycled up to 50 miles on it. I definitely keep active as much as possible. Work for starters, I have a job where I serve customers and am on my feet all day. Though the number of days I can work is limited due to my disability.
In the last two years, I have acheived a couple of personal goals.
I managed to take a bike to my childhood home town. I actually cycled there from Farnham on a route that didn't exist 25 years ago. I have also cycled up Box Hill near Dorking which I had never done before. I am still continuing with rides for a local charity, as well as the odd long sightseeing ride to nice places to visit.
I have changed and evolved the ways that I stay active.
Even though my disability has made things different for me, cycling has become even more important to me now. To keep active, I have an eBike to use when my legs aren't at their best. I cycle 21 miles to work when I can. My specialist has even recommended that I cycle more and use buses less, as being sat down for long periods aggravates my conditions.
I now campaign for active travel, inclusive access and disability cycling.
I do this mainly via blogs, videos and social media In November, I am off to the Wheels of Wellbeing conference in London to find out more on how to improve campaigning for disability activity and travel. I will also be meeting a small number of medical specialists at my local hospital to discuss the health benefits of using eBikes (which I was asked to do out of the blue)!
I'm currently saving for another eBike, which I am building myself with help from a local mechanic.
The plan is to put a conversion kit onto a bike more suited to me, as my disability has changed. So I'll then be able to cycle more often and cover more miles per ride.
Decades ago, I was told I would never cycle again after a major leg operation. I've now been cycling for the past six years. Even with a disability that keeps throwing curve balls at me, I always find a way to get around it. My advice to those who want to be more active is - there are lots of groups and charities that can support you and provide information on getting active. You don't have to be super fit, you just have to want to do more and find something you enjoy; and sometimes it'll happen in a way you might not expect.
For more updates on Wolf's cycling experiences, visit his blog. Watch his Me, Being Active video below, filmed in 2015.
Watch Wolf's Me, being active video
If you want to be more active but aren't sure how to start, visit our dedicated webpages for advice.