Aston Villa Foundation strengthens its inclusion credentials
In January 2018, Aston Villa Foundation completed Lead – Activity Alliance's inclusion improvement programme. Since undertaking Lead's self-assessment, the Foundation has strengthened its inclusion credentials across many areas. This includes signing up to the new Include Me West Midlands pledge.
Aston Villa Foundation works hand-in-hand with organisations across Birmingham. They work to enhance community engagement and provide opportunities for disabled people to be active.
In January 2018, Aston Villa approached Activity Alliance to facilitate Lead and support them to embed an inclusive approach across the organisation. Engagement Advisor, Mark Fosbrook delivered the initial workshop to all staff. Afterwards, he provided the Foundation with an organisational improvement plan.
Over the last 18 months, Aston Villa Foundation has made great strides towards becoming a truly excellent organisation for disabled people. Their Lead improvement plan outlined scope in particular areas. As a result, they have invested in specific training for all staff and boosted local engagement opportunities. They have also secured the future of local activity sessions for disabled people.
The Foundation has embedded inclusion training into their continuous professional development programme to combat low levels of disability awareness among staff. Regular training opportunities now include disability equality, autism awareness and coaching blind footballers. In addition, Activity Alliance delivered an Inclusive Activity Programme workshop for current staff members to improve their confidence and skills to adapt activity sessions.
As well as upskilling their current workforce, Lead also flagged a requirement for more specific expertise. In response, the Foundation hired Greg Southall as a new Disability Engagement Consultant one day a week for an 18-month period. During his time, Greg improved Aston Villa's relationships and partnerships with local disability organisations. This work forms part of their ambition to become a hub for sporting and non-sporting organisations to work collaboratively to increase disabled people's activity levels.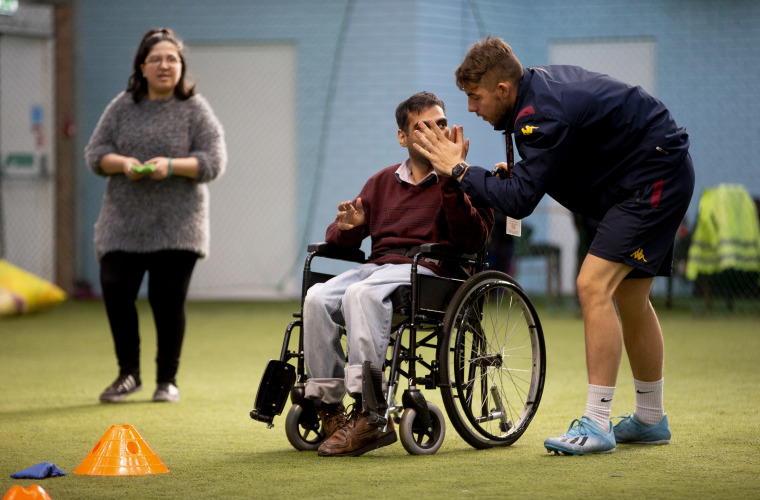 Aston Villa's efforts are already having a direct impact on the local community. The Foundation stepped in to support a day centre that was forced to cancel their weekly activity session. Aston Villa now hosts the free activity session with 60-80 disabled people each week.
Aston Villa's most recent commitment to inclusion has been signing up to the Include Me West Midlands pledge. This initiative aims to get West Midlands delivering more activity that is inclusive for disabled people and people with long-term health conditions. West Midlands Combined Authority (WMCA) are working in partnership with Sport England and Activity Alliance.
The pledge shows an organisation's commitment to breaking down the barriers disabled people face within the region. As part of their commitment, Aston Villa Foundation will begin embedding Activity Alliance's 10 principles into their planning and delivery. The 10 principles support providers to raise awareness of opportunities and make physical activity more appealing to disabled people.
Ray Ashley, Head of Engagement at Activity Alliance said:
"Our team is delighted to be working with the Foundation. We applaud their commitment to improving how they include disabled people in everything they do. As a result of their Lead plan, they are seeing so many positive outcomes.
"Now, they have taken their commitment to inclusion one-step further. It is fantastic to see such an influential regional organisation sign up to the Include Me West Midlands pledge too. We look forward to continuing our support with the Foundation so more disabled people across West Midlands can reap the benefits of an active lifestyle."
Debbi Rawson, Projects Manager at Aston Villa Foundation said:
"Aston Villa Foundation are delighted to be part of the Include Me West Midlands pledge, we have worked hard over the last 2 years with the support of partners, such as Activity Alliance, to improve our disability provision and ensure all of our sessions are inclusive. We are committed to working with disabled individuals, to listen, learn and make ongoing improvements to engage and provide inclusive opportunities for everyone.
"We hope other organisations see the benefit of joining the pledge, so that we can work together to improve the lives of disabled people."
Andy Street, Mayor of the West Midlands, who chairs the WMCA said:
"Include Me WM has captured the hearts and minds of businesses and organisations since its launch in the spring, and it's a great endorsement to have such a high profile organisation as the Aston Villa Foundation on board.
"The WMCA has an ambition to make the West Midlands a centre of excellence for disabled sport, and I am glad that, through Include Me WM, we are really starting to lead the way in increasing physical activity for people with disabilities."
Since its launch in May, more than 30 organisations have signed up to the Include Me West Midlands pledge. Find more about Include Me West Midlands here. Follow the conversation on Twitter using the hashtag #IncludeMeWM.
For more information about Aston Villa Foundation and their work to positively impact lives through sport, visit Aston Villa FC website.
Photo credit: Aston Villa Foundation