A busy day at Kidz to Adultz South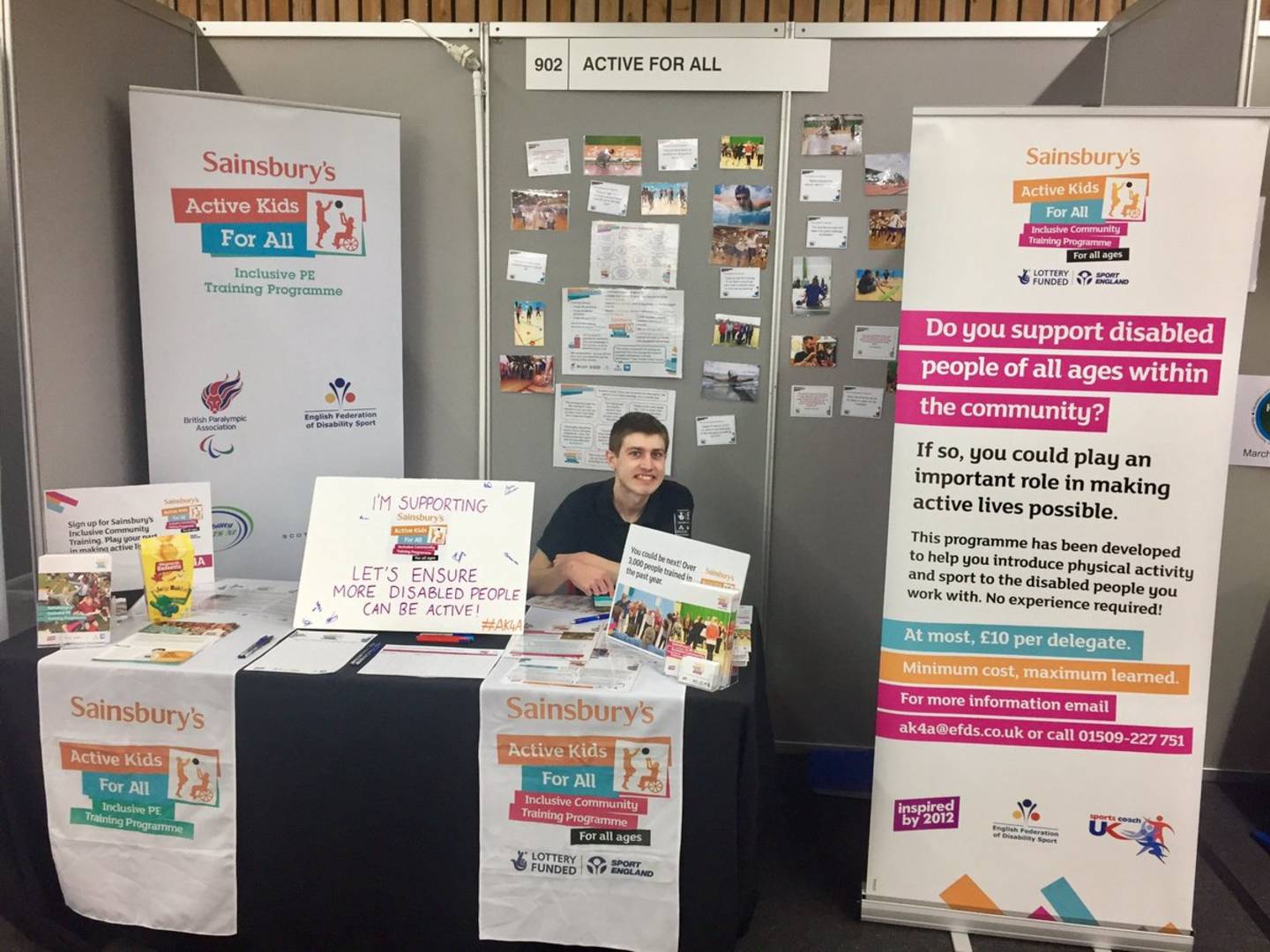 Kidz to Adultz South is one of the largest, free UK exhibitions dedicated to children and young adults with a disability or additional need with parents, carers, students, teachers and healthcare professionals travelling from across the country to attend.
One of those who came to the stand was Aldona, Chair of a parent carer's forum in Hounslow. Having chatted to the EFDS staff at the event, Aldona is now interested in arranging a Sainsbury's Inclusive Community Training workshop for the forum members to give them new ideas for incorporating inclusive physical activity in the lives of the young people they support.
Once the doors opened, the stand was soon busy with over 30 enquiries about both programmes and the work of EFDS in general.
Throughout the day, visitors were asked to sign the Sainsbury's Inclusive Community Training pledge board to show their support for helping more disabled people to be more active. In total over 47 people signed up!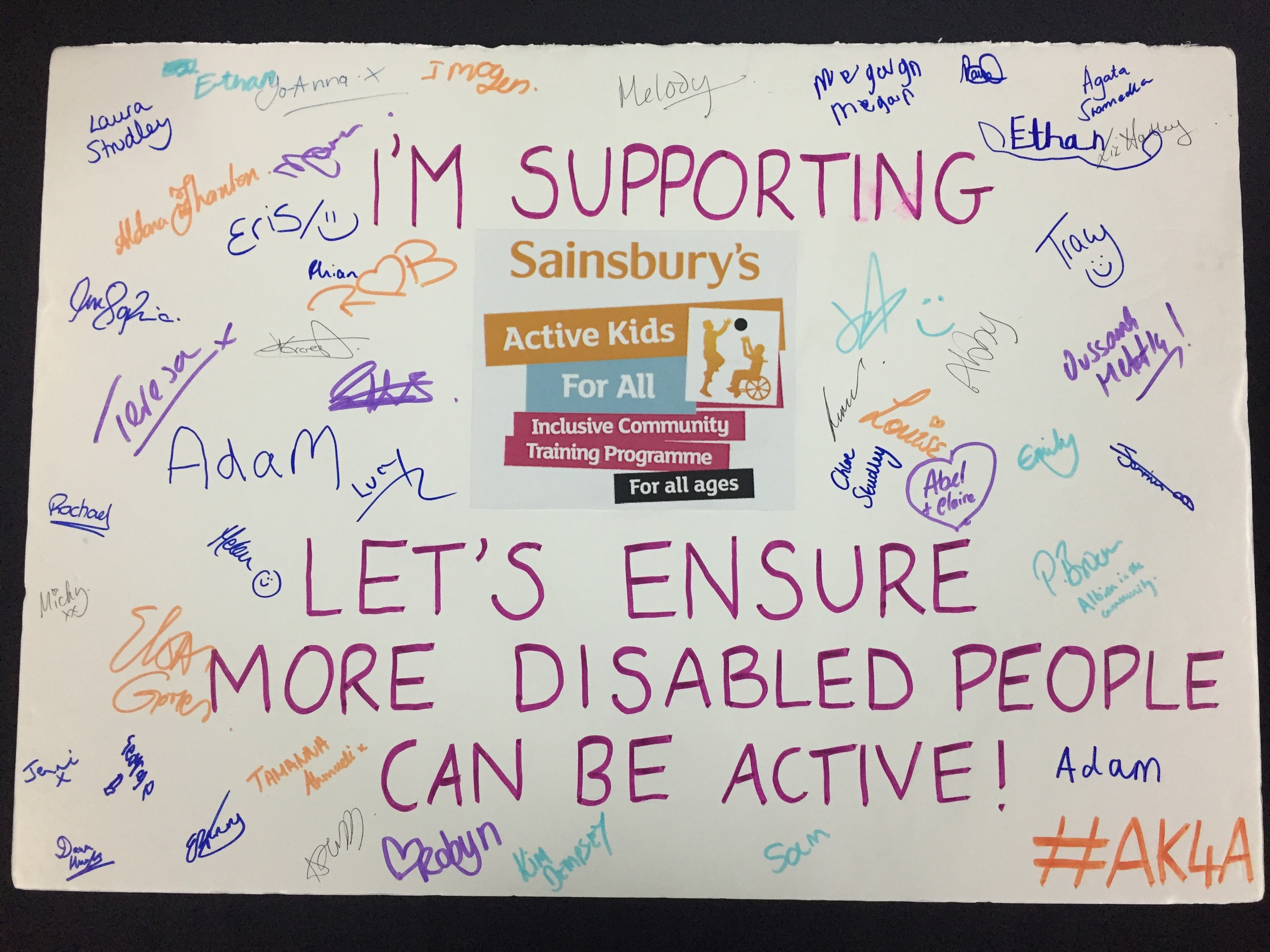 George Bollands, Active Kids for All Project Assistant at EFDS said:
"During the event, it was fantastic to see so many people visit our stand and pledge their support for enabling more disabled people to be active."
"I truly feel that, whether it was handing out leaflets about our training programmes or linking parents to their local opportunities, we helped to make a difference to the lives of many disabled people both in the south of England and further afield by having a presence at the event."
Rhian McCarroll, Active Kids for All Project Officer said:
"Overall, Kidz to Adultz South was a great event for EFDS. It provided us with a fantastic platform to extend our reach and promote the Sainsbury's Inclusive Community and Inclusive PE Training programmes. Throughout the day we were able to meet a wide array of individuals, tell them about the work of EFDS and share our knowledge and passion for getting more disabled people active."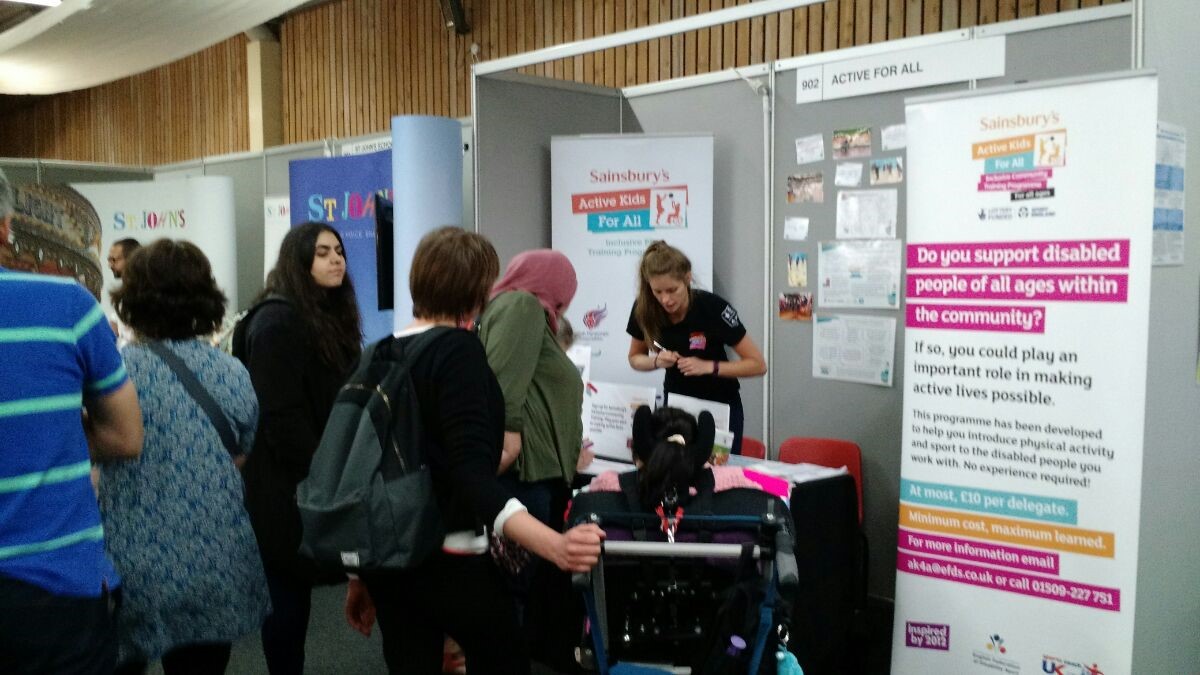 The Sainsbury's Inclusive Community Training Programme is a creative, informal and informative three-hour workshop. It is designed to improve the skills and confidence of those who support disabled people to be more active and to date has provided low cost training to over 8,000 individuals who support disabled people in the community.
The Sainsbury's Active Kids for All Inclusive PE Training provides free training and resources to support teachers, trainee teachers and other school staff across the UK to deliver an inclusive PE curriculum for all pupils. To date, the initiative has provided training to over 10,000 teachers, benefitting over 250,000 young people with special educational needs and disabilities.
The Active Kids for All Team attends a variety of conferences and events throughout the year. Chloe Studley, Active Kids for All Manager, explained why:
"Attendance at conferences allows us to connect with parents and professionals that have critical roles in supporting young disabled people in everyday life. Regardless of ability or impairment, we believe that every young person should have access to an active lifestyle. So the opportunity to inform parents and professionals at events such as these plays an important role in making this happen."
For further information about the Sainsbury's Active Kids for All Inclusive Training programmes, please contact EFDS via email or telephone 01509 227751.
Find us on Twitter @Eng_Dis_Sport, Facebook and LinkedIn.