Aspire Leisure Centre
Address

Wood Lane, Stanmore, HA7 4AP

Email

Phone

0208 8954 5759

Link
The Aspire Leisure Centre is based in North West London within the grounds of the Royal National Orthopaedic Hospital in Stanmore. The centre was the first fully accessible leisure centre in Europe for both disabled and non-disabled people.
They offer a wide range of classes to cater to all levels of fitness and ability, and proactively encourage disabled people to join in and take part in all activities at the centre. Disabled members benefit from subsidised membership and activity costs, and are also able to make use of our fully accessible gym and facilities. These facilities include a heated wheelchair accessible swimming pool, as well as an Inclusive Fitness Initiative approved fitness studio and accessible gym equipment.
Over 32% of Aspire Leisure Centre members are disabled, compared to an average of just 2-3% at other sports centres nationally. They are passionate about inclusive fitness, and the good practice at Aspire Leisure Centre inspired our InstructAbility programme - a national project to train disabled people as fitness instructors.
Aspire Leisure Centre is committed to providing accessible, inclusive fitness facilities to both our disabled and non-disabled customers. Aspire Leisure Centre has gained Quest (UK Quality Scheme for Sport and Leisure) registration as 'Very Good' and has been fully approved by the Inclusive Fitness Initiative with and 'Excellent'.
We have a wide range of accessible gym equipment in our fully inclusive fitness studio, and the leisure centre is equipped with automatic doors and lifts throughout. They also offer free parking for our disabled customers.
Facilities include:
25m wheelchair accessible swimming pool
Water temperature of 31°C
Ramped access for wheelchair users
Speciality swimming pool wheelchairs
Changing room track hoist and adjustable bed
Gym
Inclusive Fitness Initiative accredited accessible gym equipment
Functional Electrical Stimulation (FES) bikes for assisted exercise
Removable chairs on resistance machines for wheelchair users
Standing Frame
Sports hall
Schwinn cycling studio
Dance studio
Home to the internationally acclaimed integrated dance company Candoco
General facilities
Meeting room hire
Cafe for light meals and drinks
Free parking with disabled parking spaces
Automatic doors
Signage and braille for visually impaired people
Large print leaflets available
Visual fire alarm beacons
Lifts
Hand sensored taps, dryers and sanitary bins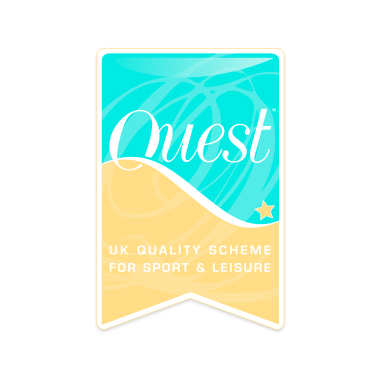 IFI Mark
Accredited by Quest as Execellent until September 2020