Blog: "The freedom running gives you can be life-changing"
The English Federation of Disability Sport (EFDS) website features a blog post every Friday through the year. This week, Mike Leatherbarrow, core Southport parkrun team member and guide runner for England Athletics, writes about their achievements in getting the community running.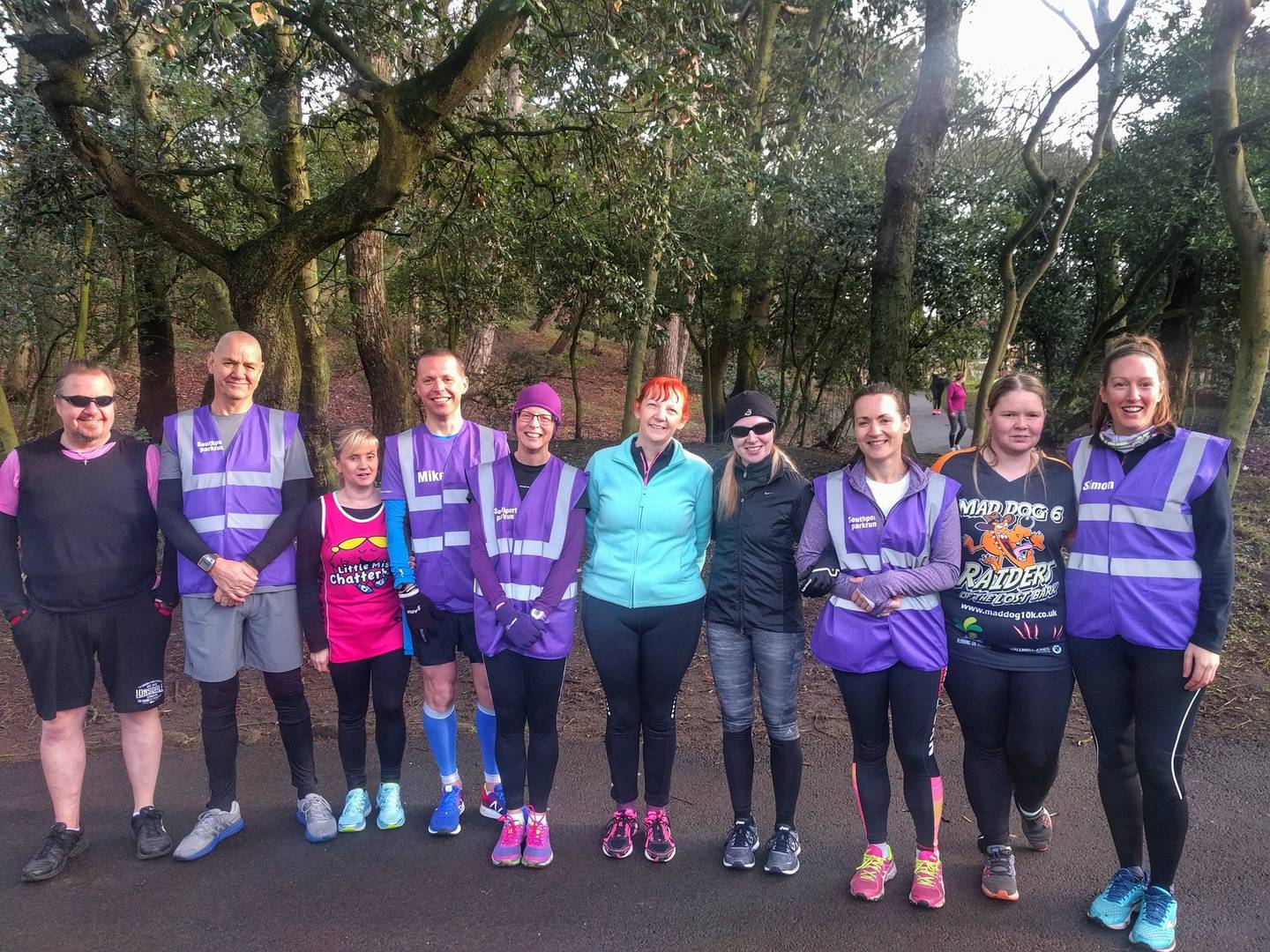 We started the Southport parkrun in June 2016, and over recent months we have been working to increase the inclusion of people from the local community – regardless of age or ability.
I've been a guide runner for nearly three years, guiding my blind friend in everything from 5km runs to marathons. So, I knew just how important and life-changing it could be for a visually-impaired person to experience the freedom that running gives you. Through his work as a GP, my fellow parkrunner Dr Simon Tobin set the ball rolling by prescribing physical activity to patients and inviting them to the parkrun. This led to an influx of new, first-time runners each week (you can read Simon's blog on the parkrun UK website for his story).
Our team attended an England Athletics vision loss awareness and guide running workshop last year, and we've also been speaking to a local charity that supports blind people to help us understand barriers to participation. As a result, we're running a dedicated event for visually-impaired people on Saturday 20 May 2017 - we are hoping that people living with sight loss will come along to run, walk, jog, volunteer, or even just see what parkrun is all about.
Parkrun is so inclusive, and participation has taken off far beyond our expectations. Earlier this year, we had our biggest turn out yet of 311 people and we now have five visually-impaired runners taking part each week. We have a visually-impaired runner, Kelly, who had never ran outside, or indeed at all, until three months ago. This weekend she is running her fourteenth 5k parkrun and in May, I will be guiding Kelly in her first ever 10k run.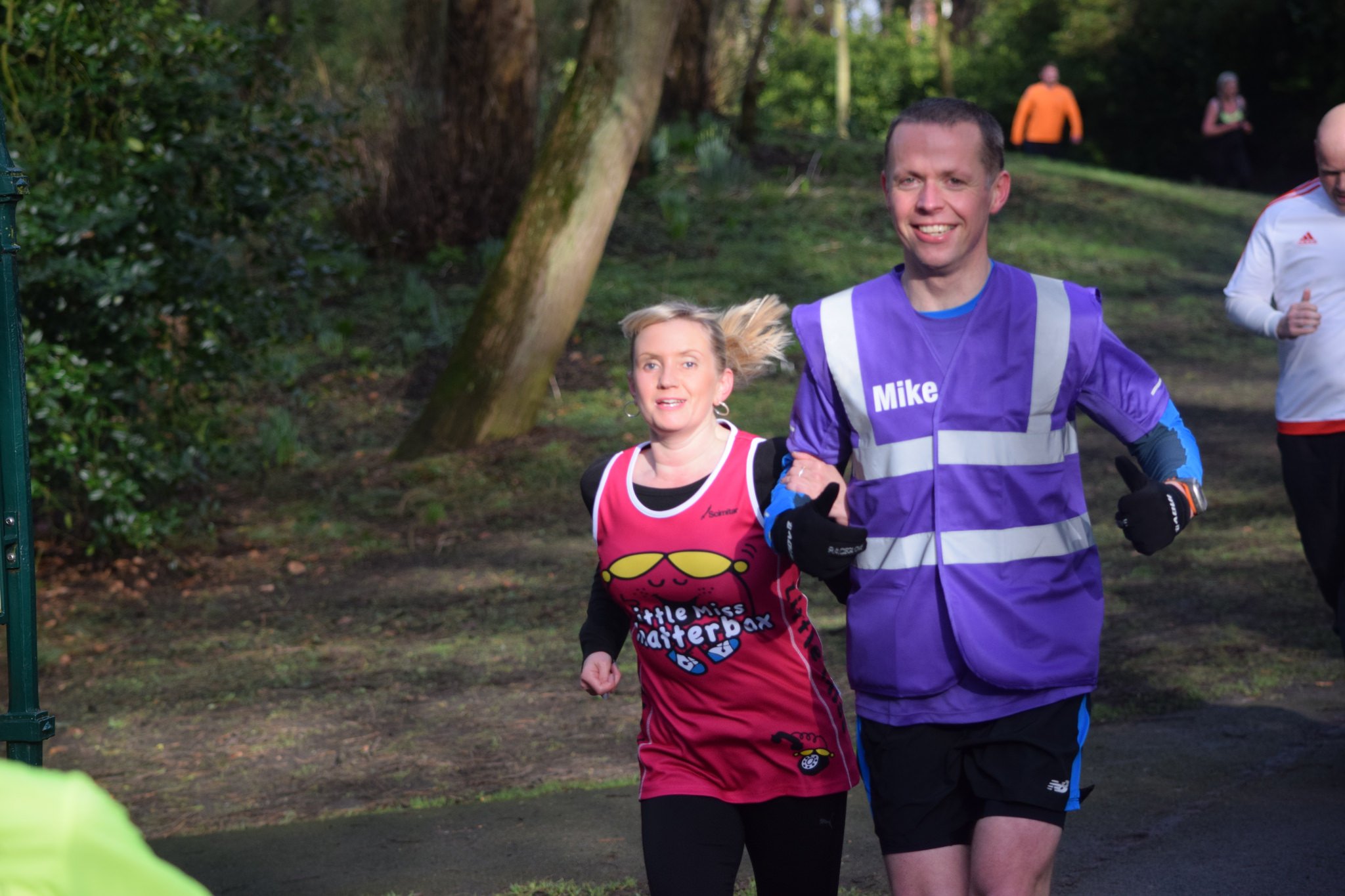 Kelly said:
"When I first found out about parkrun, it sparked an immediate interest in me. I like trying new activities, but as someone who has always been blind, I never thought that running would be accessible to me. I am really enjoying it and have a new-found love for running - as the weeks have gone by, my times have got faster and although I feel extremely nervous before a run, my confidence is slowly starting to grow each week.
"The guides I run with are excellent and their constant commentary and continuous encouragement has helped me to feel safe and secure. It's really difficult to describe to anyone who can see just what it feels like to suddenly not have a cane in your hand, but instead being reliant upon someone else to tell you every turn, bump and obstacle you are about to encounter. It's hard to put into words the amount of trust that takes.
"Although I'm running with a guide, I feel no different to anyone else who turns up at 9am on a Saturday morning."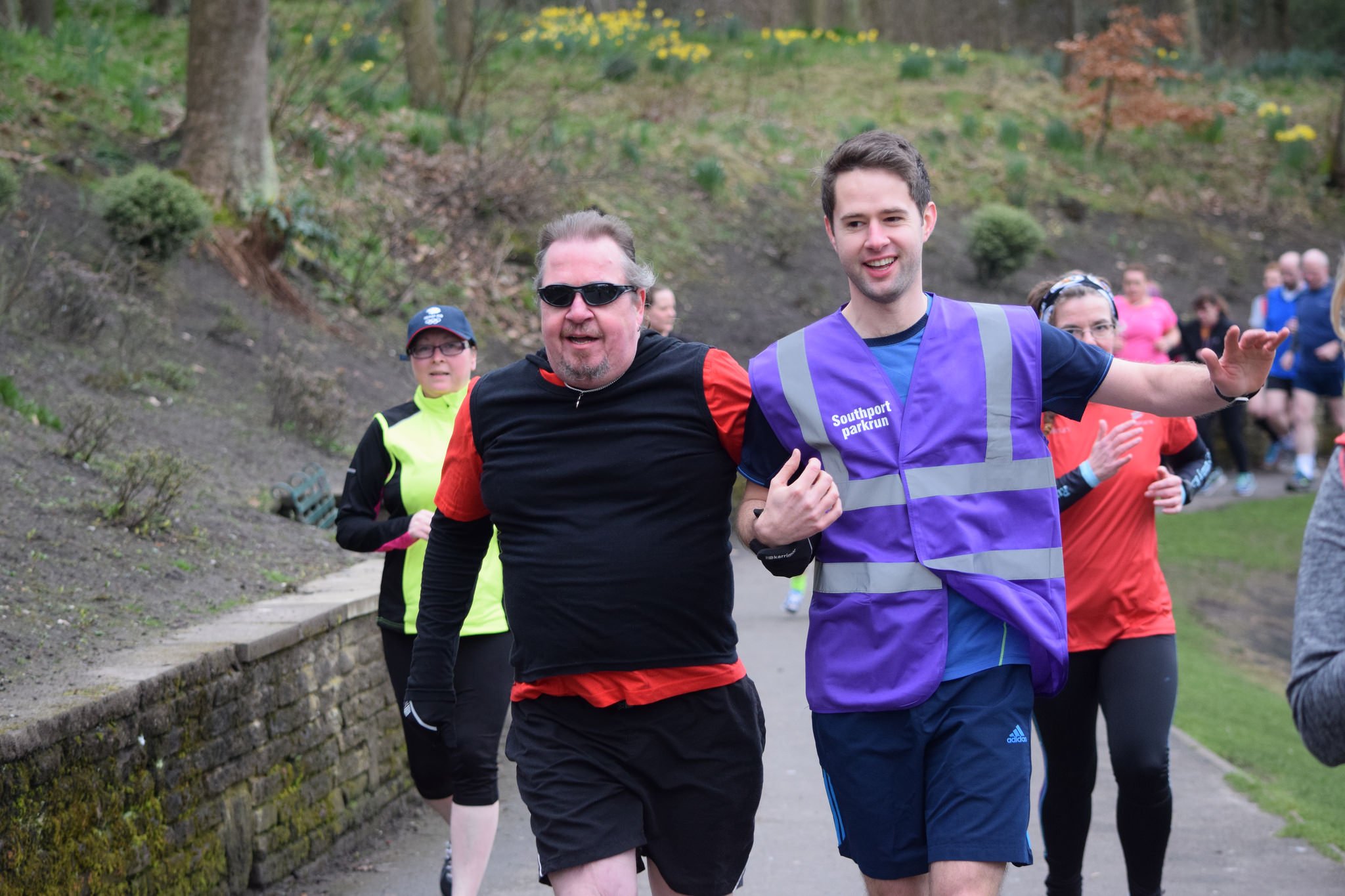 James ran his first 5k parkrun earlier this year, and has come back every Saturday since. He said:
"When I lost my sight six years ago, there was a time when I thought I would be too scared to ever leave the house again and if someone had told me then that I would one day do a run, I would never have believed them.
"But, when Kelly told me about parkrun, I decided it was worth a try. Before I lost my sight, I enjoyed running, so it was great to think that I could recapture this. I'm so glad I gave parkrun a go; as soon as I completed my first run, I knew that I would be going back each week. Everyone is so friendly and welcoming; and each week I feel such a sense of achievement after the run. It's brilliant that parkrun have volunteers to take on the role of guide runner - because without them, running is something that myself or any other blind people just wouldn't be able to do."
The main issue we have now is recruiting guide runners! Of course, if a visually-impaired runner is happy to do so they can run with a volunteer, but the England Athletics accreditation reassures the runner that their guide is trained, aware of potential needs and DBS checked.
During the past few weeks, four more of our Southport parkrun volunteers have successfully completed the guide runner course, which is allowing us to cope with increasing participation. Last weekend alone, 35 visually-impaired people participated nationally at a parkrun UK event (including our five regulars from Southport). Although that is an fabulous achievement in itself, nationally, we still have a long way to go. But we are doing that (literally) step by step!
Thinking about trying out a run? Parkrun organise free, weekly, 5k timed runs around the world. They are open to everyone, free, and are safe and easy to take part in. Visit the parkrun website to find an event near you.
If you're interested in becoming a certified guide runner, visit the England Athletics website.