Blog: "For me, sport is fun physiotherapy"
The English Federation of Disability Sport (EFDS) website features a blog post every Friday. This year, we'll be sharing the experiences of disabled people involved in sport and exercise at all levels, finding out what impact being active has on their lives. This week, para-vaulter Lizzie Bennett tell us how exercising rejuvenates both her body and her mind.
I'm Lizzie, I'm 27, and I live and train in and around Essex and Cambridgeshire. I have Ehlers-Danlos syndrome (EDS), bipolar disorder, postural orthostatic tachycardia syndrome and a mild hearing impairment. I'm a wheelchair user, usually in a manual chair, but sometimes I use an electric one if I'm somewhere hilly.
I'm a member of the Riding for the Disabled Association (RDA) and compete in dressage, showjumping, showing and vaulting (which is gymnastics on horseback)! I take part in gymnastics off the horse too, to help build up my strength and skills for vaulting. In 2015, I started wheelchair racing as well, over any distance from 100m to half marathons.
When I first started riding and wheelchair racing, I trained alongside other disabled people. This was cool as we quickly became friends and now we have an unspoken understanding between us because of how we view life, training and competitions. Don't get me wrong, I find training with non-disabled people really useful too, it pushes me further and helps to spread awareness of what disabled athletes can do.
My sports are mostly individual, so although I train with lots of people it can feel a bit lonely when it comes to competition. Fortunately, I have made such good friends that we support one another through the nerves and pressure, even when we're competing against each other!
Being active helps me to manage my fatigue and makes me feel good. Yes, exercise is tiring but it's also rejuvenating, and helps to make the simple things I do every day such as washing, dressing and eating a bit easier. For me, sport is fun physiotherapy! It definitely improves my mood and mental wellbeing too. I love going to training and socialising with my friends.
Seeing and feeling myself progress is what motivates me. I push myself quite hard at training and it isn't always pretty. I don't feel great during exercise, sometimes I feel sick, dizzy or in pain, but that is just part and parcel of having EDS. I don't care that exercise causes me pain, to be honest I'm used to it. My disability can cause enormous pain. So, when I do plenty of exercise, I can blame that for my pain and I feel more in control. It feels as if my body is just like anyone else's.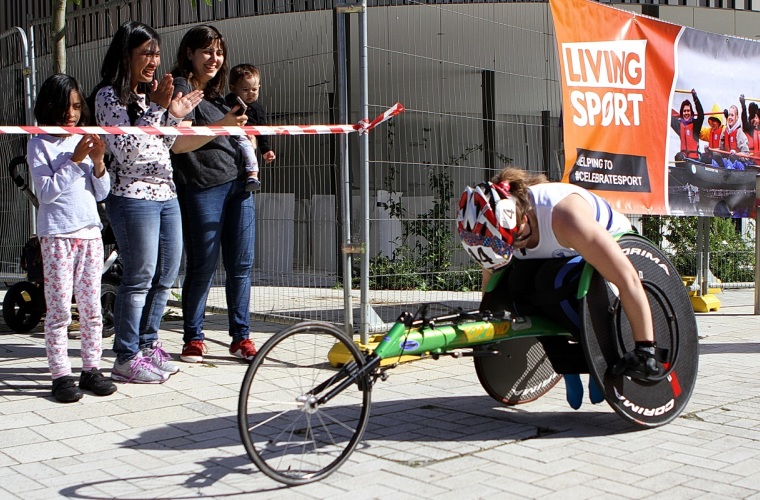 I can't always drive myself, so I often rely on my mum to ferry me around, which she does without complaining very much. My boyfriend is also very caring, he has travelled all over the country to support me. For someone with no knowledge of wheelchairs or horses, he has learned quickly how to become a race chair engineer and rookie groom! The people I train with are also really important because they help me to try new things. There's nothing quite like seeing a friend achieve something new to give you the same urge.
This year, I looking forward to getting some qualifications to support the sports that I do. I want to start working towards my British Horse Society Stage 2 Award and my first RDA coaching qualification. I'm also hoping to get back into road racing in my chair and defending my five national titles in para-showjumping (1), para-dressage (1) and para-vaulting (3).
Never assume that you can't do something. I used to think like that, but I've learned there are so many ways you can experience new activities, even ones you might think are off-limits. If there's a local club with coaches experienced in working with disabled people, then that can be a great way to start. If not, then get in touch with the sports club you're interested in and see if they can make something work for you. Often people are only too happy to help and then whilst you're getting active, you'll also be helping to create more opportunities for other disabled people in the future!
To find out more about horse riding opportunities near you, visit Riding for the Disabled Association website.
If you want to be more active but aren't sure how to start, visit our dedicated webpages for advice.