Include Me West Midlands launched
On Friday 10 May, key national figures in sport and activity came together at the launch event for Include Me West Midlands. The programme includes a pioneering pledge to deliver more activity that is inclusive for disabled people. West Midlands Combined Authority (WMCA) spearheads the initiative, in partnership with Sport England and Activity Alliance.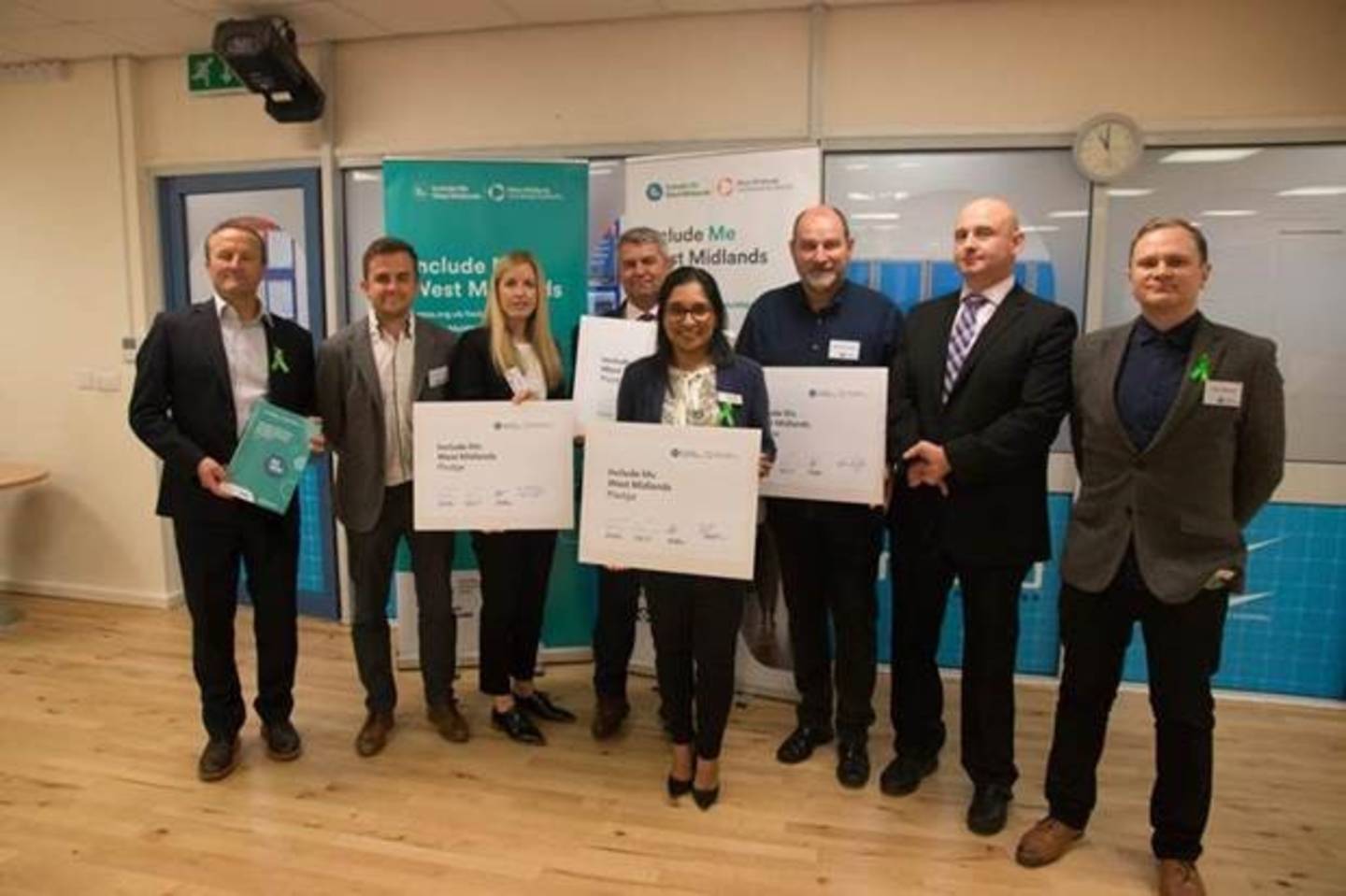 At the heart of the campaign is an Include Me West Midlands Pledge - a commitment to improving the understanding of the barriers that all the region's residents face.
WMCA's strategic lead for physical activity, Simon Hall, said the combined authority is willing to listen, learn and make changes. At the launch at Tipton Sports Academy in Sandwell, the first four organisations to sign the pledge were announced - Sandwell MBC, Inspire Activity, Sandwell Leisure Trust and Midland Mencap.
Sport England is contributing £150,000 towards the overall £179,000 cost of Include Me West Midlands. Their Strategic Lead for Disability, Adam Blaze, told event guests that the West Midlands was the ideal place to lead the campaign:
"If we are going to make a change to disabled people's lives and how they can access sport, we absolutely have to go away from here today and build on the great work that you are already doing.
"If there's anywhere we can get it right, it is here - we can lead the way in creating a change and we have got to get on with it. We can't let the momentum drift away. We have to create a movement in this region so people start to look at us as leading the way.
"We have to do a better job of listening to what you need and you have to keep telling us. For example that co-design and co-production is probably the most important thing. I believe there are now people here who are going to listen."

The campaign follows up on an ambition in West Midlands Mayor Andy Street's Renewal Plan, to make the region a centre of excellence in sport for disabled people.
The Include Me Report sets out the challenges and ambitions, developed following extensive consultation. This is rooted in the WMCA's inclusive economic growth priorities and links to its West Midlands on the Move Strategic Framework, published in 2017, which aims to make physical activity and active citizenship the norm.
Include Me West Midlands builds on that, taking up the challenge to make the West Midlands an exemplar region in its number of active citizens. The Mayor said:
"We know that nearly 50% of disabled people across the West Midlands are inactive. We are looking to reduce this by launching Include Me West Midlands - looking for as many organisations as possible to sign up to our pledge to demonstrate their commitment to improving how they engage with disabled people.
"They will also open their doors to the thoughts and ideas of disabled people and look to improve with the help of disabled people. Include Me West Midlands will also look to address some of the wider issues that prevent disabled people from even seeing physical activity as an option."
Activity Alliance is the leading national charity focused on disabled people's inclusion in sport and active recreation. We bring organisations and disabled people together to make active lives possible, with a vision that 'disabled people are active for life'. Collectively, we continue to challenge perceptions and change the reality of disability, inclusion and sport.
Activity Alliance's Chief Executive Barry Horne said:
"We are delighted to support Include Me West Midlands, which will put disabled people at the heart of activity planning, opportunities and campaigns in the region.
"As a partner, we are proud to be included in this new ground-breaking programme that looks to change the landscape and increase the numbers of active disabled people. It is also fantastic to see our Ten Principles rooted within the pledge. Mark, who will lead the programme also works within our engagement team, so is able to share a wealth of knowledge and resources.
"There are so many great people in the West Midlands, who are working tirelessly to champion disabled people in sport and activity. Through this programme, others will be able to learn and share, helping us all to challenge perceptions and change the reality of disability, inclusion and sport. I have no doubt that organisations across the region will show their commitment to Include Me West Midlands."
WMCA plans to raise awareness and make changes in access to sport, leisure and transport. They will train those in health, social care, sport and physical activity. The aim is to establish an Include Me West Midlands Network with disabled citizens at its centre.
The combined authority's physical activity champion, Cllr Kamran Caan, led a working group, whose report sets out 10 West Midlands priorities. These priorities do not just cover sport but also wider issues that impact on disabled citizens' lives. He said:
"Above all the report pushes for a more inclusive approach in how we approach sport design and delivery and how people of the West Midlands live, work and play together."
Activity Alliance's Honorary President, Baroness Tanni Grey-Thompson, former paralympian and chair of ukactive, another working group member, said:
"Disabled people can face a vast number of psychological, logistical and physical barriers to getting active. This is not just about the accessibility of a local leisure centre, but as much about a well-trained and inclusive workforce, better transport options, access to services, and inclusive messaging and imagery.
"The work of the West Midland's Mayor resonates strongly with the "Everyone Can" programme: an initiative by ukactive and Sport England designed to change perceptions around disabled people's participation in physical activity and support the sector to become more inclusive."
Sport England's Executive Director, Mike Diaper, said:
"Getting active can have massive health and other benefits for disabled people and yet disabled people are twice as likely to be inactive when compared to the rest of the population. Sport England is determined to turn this picture around by listening to, understanding and acting on what disabled people tell us.
"We are helping the sector provide sport and physical activity in a way that is accessible, practical and most importantly fun. We are delighted to be working with Activity Alliance and the West Midlands Combined Authority using National Lottery funding to pioneer change."
Find more about Include Me West Midlands here. Follow the conversation with #IncludeMeWM
Image shows: Simon Hall, WMCA physical activity lead. Adam Blaze, Sport England. Erica Martin, Sandwell Council. David Rogers, Midland Mencap. Pamela Kaur, Sandwell Leisure Trust. Dennis Kennedy, Inspire Activity. Mark Fosbrook, Activity Alliance. Huw Edwards, ukactive.