Blog: "I want to break down access barriers to fitness"
As the sector continues to recover and reinvent, we hear from disabled people on the highs and lows of the pandemic, and what it has been like returning to activity. In our latest blog, we hear from personal trainer Ben Clark on the growth of his online fitness channel, Adapt to Perform, and the impact of the COVID-19 pandemic on his physical and mental wellbeing.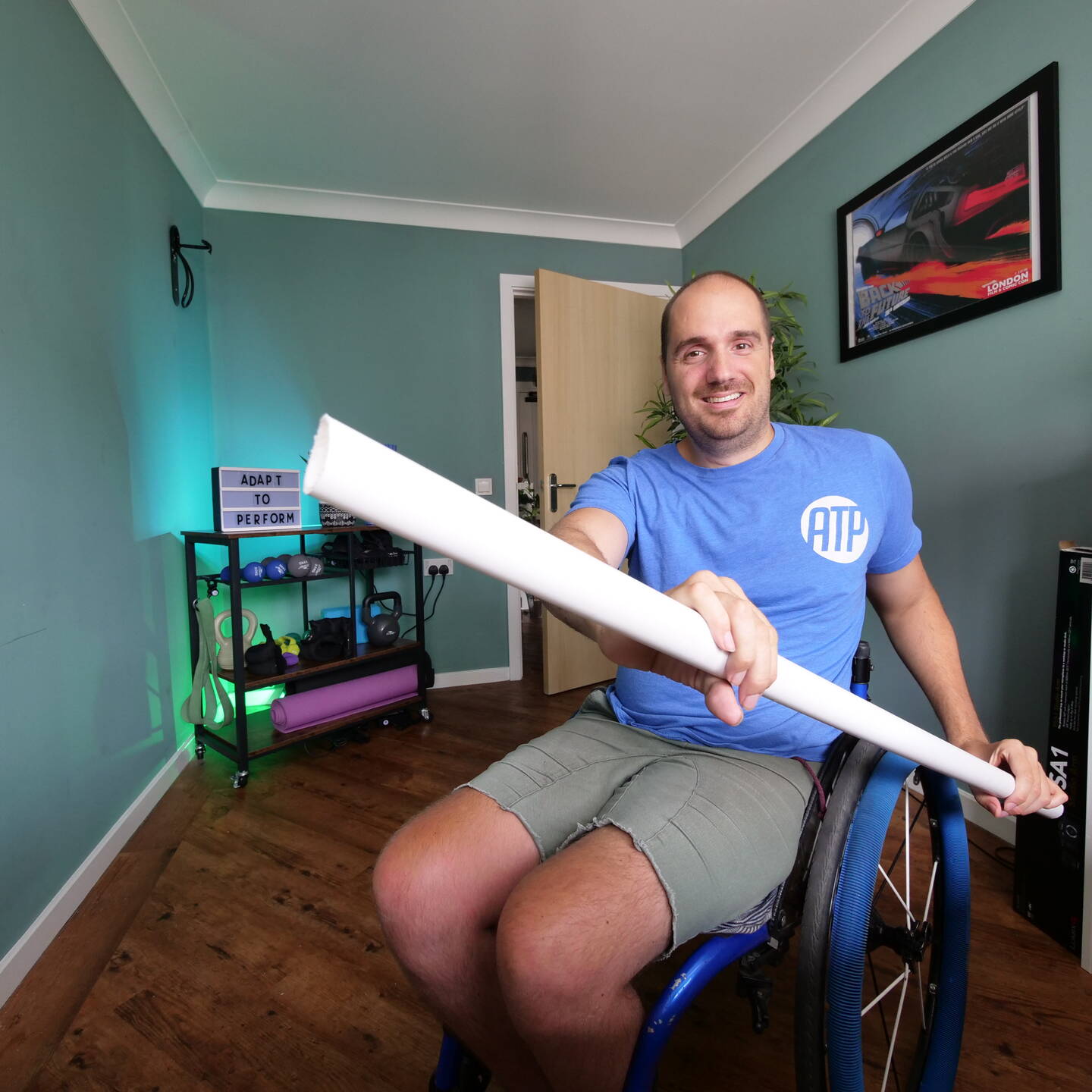 Hey, my name is Ben Clark and I am 30 years old. I currently live in East London but my home is Poole in Dorset. I love being active, whether that's in the gym or in front of the camera on my YouTube channel. I'm also a C7 quadriplegic from a spinal cord injury I sustained in 2010.
I enjoy other hobbies such as wheelchair rugby and swimming. Before my accident, I was a professional swimmer with sights on London 2012 - so swimming has been a huge part of my life and I love that I can still continue to do it now.
I was very fit and active before the COVID-19 pandemic and during lockdown this didn't change in terms of frequency. However, not having access to the variety of equipment in my gym meant I had to train differently. This involved using fewer heavy weights and more focus on muscular endurance. Being a manual wheelchair user, this helped with my ability to push my wheelchair with greater efficiency.
I have to say, the last year has been a strange one for me, much like everyone else I've had less contact with friends and family in person. It reminded me of the early days of acquiring my disability and having to get used to my own company whilst still recovering and understanding my body. It is almost like I had training for this year!
However, at the same time, my YouTube channel that specialises in adapted fitness had a huge spike in interest and accelerated my five-year plan into just one. During lockdown I have provided over 300 live workouts to people all over the world, which has resulted in me being much more social than before – but it is just in the digital space.
The reason I started Adapt to Perform is out of a necessity for myself. I was looking online for adapted fitness workouts, and I could only find one aerobics video from the 90s and a bodybuilder who looked like Arnold Schwarzenegger! There wasn't anything for me and for the 99% of people out there who just want to improve their physical wellbeing. So, I combined my knowledge of my sporting background and my experience as a disabled person and started making videos.
My aim with Adapt to Perform is to help break down the access barriers to fitness. With a disability, it can be hard to find an accessible fitness facility that is nearby, trainers with the knowledge to help you adapt, or the funds to be able to afford any of it. To help tackle this most of my workouts are done at home using little to no equipment - so the only prerequisite is an internet connection and device to watch on. Within my sessions I give ideas and strategies on how to adapt to your needs. This way most people can get access to the benefits of exercise, which can lead them to a happier healthier more independent life.
Adapt to Perform really thrived during the pandemic and it came from people seeking alternative ways to keep fit and healthy within their own homes. I grew my audience significantly in a short space of time.
It kept me very busy and thankfully not much changed in my day-to-day life apart from not going to the gym. Although, I am very glad I have access to it now. The gym is my social space as well as a way to keep fit and healthy. I felt similar to a lot of the general public in having a more isolated social life.
Obviously, this lack of interaction with friends and families impacted my social skills. As we came out of lockdowns and activities started to return, I found it more difficult to interact with people – and still do. I had my first panic attack during this period due to anxiety. Unfortunately, my home flooded and I had to relocate to London which caused me to be highly stressed. However, this led me to have a deeper understanding of myself and I put time into training myself on the tools needed to support me if this happens again.
What next? Well, one of my big goals of swimming 10km in open water was cancelled during the pandemic but it's something that I would definitely like to achieve. I've been back in the gym and I'm working towards gaining back the strength I lost, but train to maintain the endurance that I gained.
I've also released my new membership platform at adapttoperform.co.uk which will essentially be the Netflix of adapted fitness. Although this is a paid-for platform I'm working with various organisations to make sure that most people will be gaining access for free. The aim of the platform is to provide high-quality adaptable fitness to as many people as possible, in the best possible way, so that everyone can gain the benefits of fitness!
Ben has also been providing a series of online WheelPower workouts. Find out more and have a go at Ben's workouts via WheelPower's website.