Adam Blaze shares first update as Activity Alliance Chief Executive
Adam Blaze was appointed as Chief Executive of Activity Alliance in October after Barry Horne MBE announced his decision to retire. Adam started in the role in January and takes over at a crucial time for the national charity and leading voice for disabled people in sport and activity.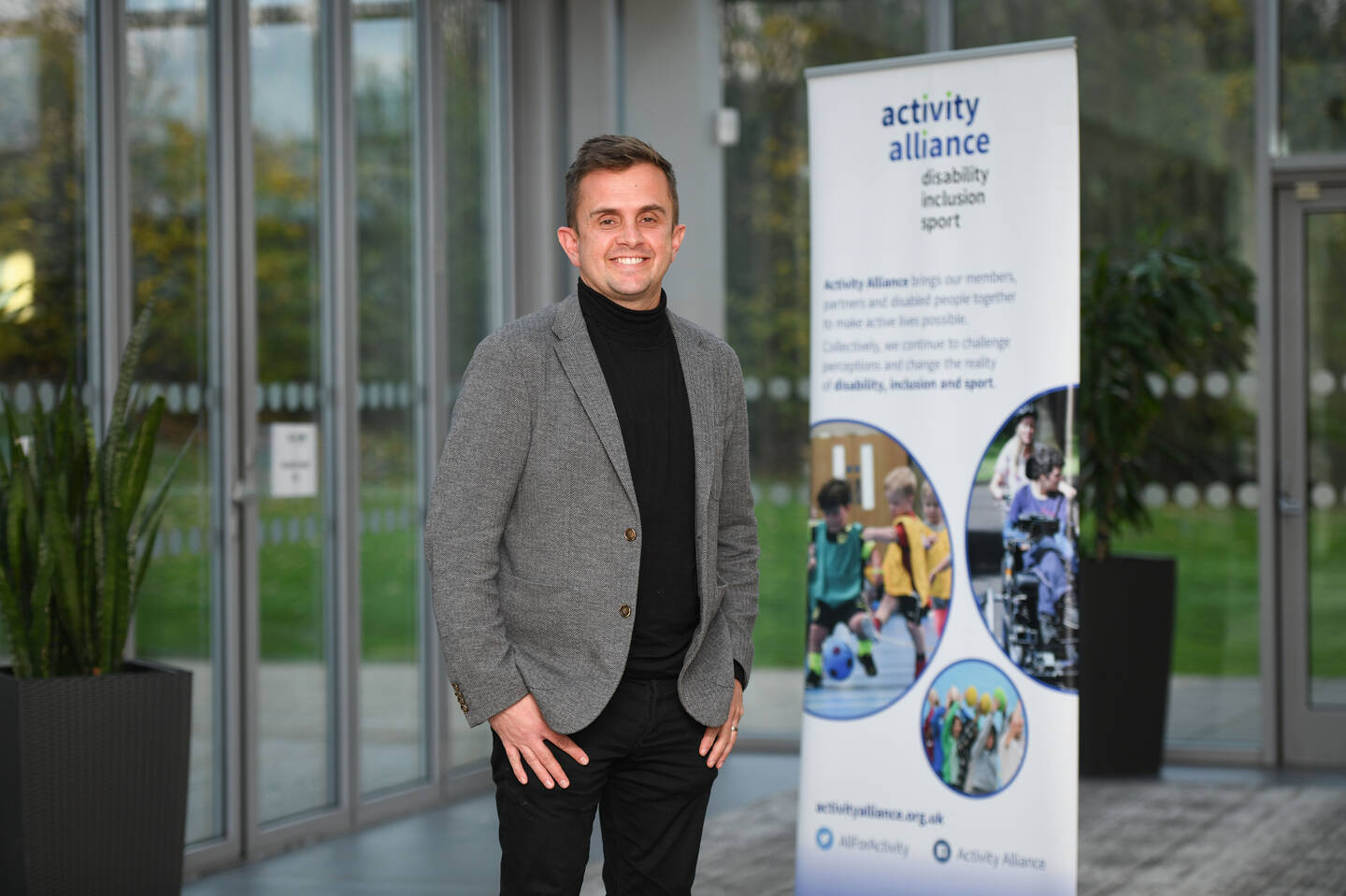 Our most recent Annual Survey highlighted that disabled people are almost twice as likely to be inactive as non-disabled people. It showed 42.4% of disabled people take part in less than 30 minutes of activity each week compared to 22.6% of non-disabled people. The work that lies ahead isn't lost on Adam, as he explains:
"I genuinely think we're one of the most important organisations in sport because of the situation we're in. Collectively Activity Alliance, National Disability Sports Organisations, Disability Charities, Sport England and others began to have a real impact before the COVID-19 pandemic. There were significant statistical changes in things like activity levels in a way that there hadn't been before.
"They were wiped out overnight by the pandemic, literally wiped out overnight. Now we're going from that into a cost-of-living crisis. We know we can make a difference to people's behaviours, and we know it's more important than ever.
"Unless we step up and work with others to change, address and evolve the way sport and physical activity is offered, sport is never going to get to where it needs to be."
There are set to be major challenges that sports and physical activity providers face in 2023. Activity Alliance joined other sport and recreation organisations in urging the Government to act now to protect community activity from a looming disaster thanks to spiralling energy costs. This at a time when less than 3 in 10 disabled people feel encouraged to return to physical activity after the pandemic, despite 8 in 10 wanting to be more active.
"It is our role to play a key part in these challenges, but we can't do it on our own. I recognise that there will be times that we have to step back and help others to solve issues that we can't. But when it's right we can offer solutions.
"We have a research and insight team that does work that simply doesn't exist elsewhere. The Get out Get Active (GOGA) programme is a brilliant example of ways in which we can support disabled and non-disabled people to enjoy being active together.
"We have the expertise and knowledge across our organisation to continue to push for inclusion to be at the heart of all plans in sport and activity."
Adam started his career 18 years ago as a regional development officer with the English Federation of Disability Sport, the charity's name before its brand refresh in 2018. He moved on to Sport England and returns with a wealth of experience.
"This moment in time is really important. Across sports organisations, activity organisations, the Government, Sport England and others, the focus is on tackling inequalities.
"The Sport England Uniting the Movement strategy was consulted on so widely it isn't just their strategy, it is a shared focus. Bluntly, it can't be delivered without our expertise and support. We will be playing a leading role in trying to remove, reduce and tackle the inequalities that exist when disabled people are trying to get active. And that isn't just participating, it's volunteers, people on boards and officials at any level of sport or activity."
Activity Alliance works with many amazing organisations, groups, and individuals, and are at the centre of influential programmes for disabled people. Our 2021-2024 strategy, Achieving Fairness, is ambitious, and recognises the need to tackle inactivity and inequality head on. Our latest impact report shows the last twelve months have provided big opportunities alongside considerable challenges.
"We have the ability to create change, to change people's lives for the better. Through sport, physical activity and allowing people the opportunity to get active. Through no fault of their own, people don't have access, we can change that. We have the ability to get rid of some of the unfairness that exists in the wider systems.
"Where you're discriminated against or excluded for things that you have no control over. That's not right. Our vision is clear and we will work, day in day out, to achieve fairness for disabled people in sport and activity."