COVID-19
Coronavirus: helping you to embed inclusive practice
We fully recognise that sport and leisure providers are going through challenging times. The impact of the coronavirus (COVID-19) pandemic on disabled people and sport and activity has been enormous. This page provides the range of resources and responses we have released since March 2020 to support your strategies and conversations. It also includes a link to the latest FAQs on exemptions and guidelines.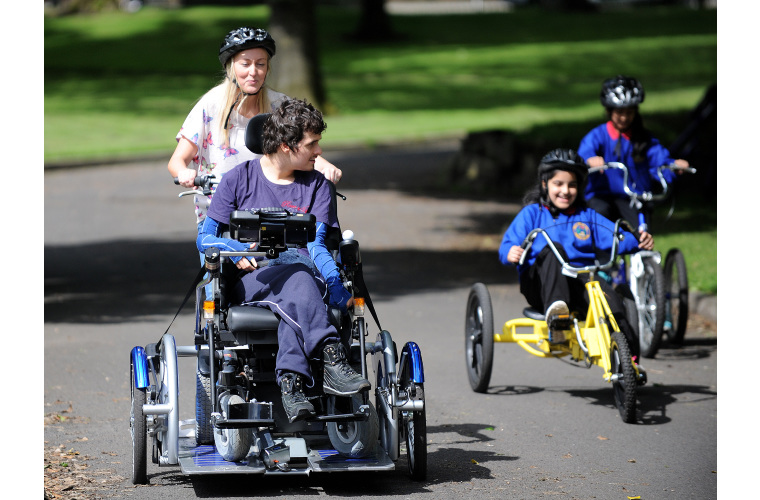 One of our biggest fears is that providers will cut their inclusion work. Losing key staff who are central to ensuring inclusive practice would have a devastating impact on disabled people's participation. We urge decision makers to think carefully about the expertise that they retain if they genuinely want their offer to be inclusive.
We are here to help sport and leisure providers to enable welcoming, and more accessible environments as activities and venues reopen.
Watch Activity Alliance's reopening activity film
"Even before this crisis period, disabled people faced real challenges in accessing opportunities to be active. We were making good progress on closing the unjust gap between disabled and non-disabled people's activity levels. But it's really frustrating that we've seen that inequality widen during the pandemic.

"This needs to change, while still addressing barriers that have existed for far too long. Inclusive activity can make a big difference to disabled people's quality of life. It is good for everyone's physical and mental health and benefits our economy."
Barry Horne, Chief Executive, Activity Alliance
Government COVID-19 guidance
The latest guidance can be found on the government website.
COVID-19 and disabled people: insight snapshot
This overview helps those working in sport and leisure to understand the wider impact COVID-19 is having on disabled people and activity levels. The findings collated from secondary resources give a snapshot of what challenges we may face in the future. Our first insight document was published in September 2020 and has now been updated to reflect May 2021 insights.
Read our overview of COVID-19 insight.
Activity Alliance Annual Disability and Activity Survey 2020-21
Evidence shows disabled people's lives have been the hardest hit by COVID-19. Our second Annual Survey reveals the stark impact of this crisis on disabled people's activity levels. Read our five recommendations with action points to minimise the impact of COVID-19 on disabled people's activity levels.
View Annual Disability and Activity Survey 2020-21 report.
Reopening Activity: an inclusive response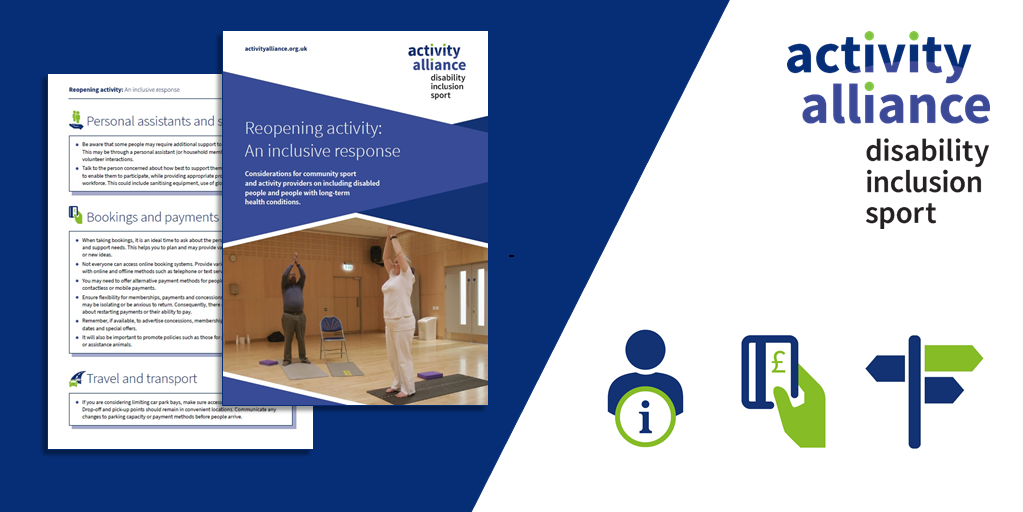 In June 2020, we published Reopening Activity: An inclusive response, in consultation with partners across sport, leisure and disability equality. We encourage providers to consider this guidance as part of their ongoing commitment to disabled people's inclusion.
The resource covers areas such as session planning, engagement, and workforce. It complements and builds on other guidelines from government, Sport England, professional associations, and governing bodies.
COVID-19 impact live event
On Tuesday 17 November 2020, Activity Alliance hosted a live virtual event - A collective movement: An inclusive response to COVID-19 in sport and activity.
At the event, disabled people and key sport leaders united to call for a more inclusive response to the COVID-19 pandemic across the sport and leisure sector.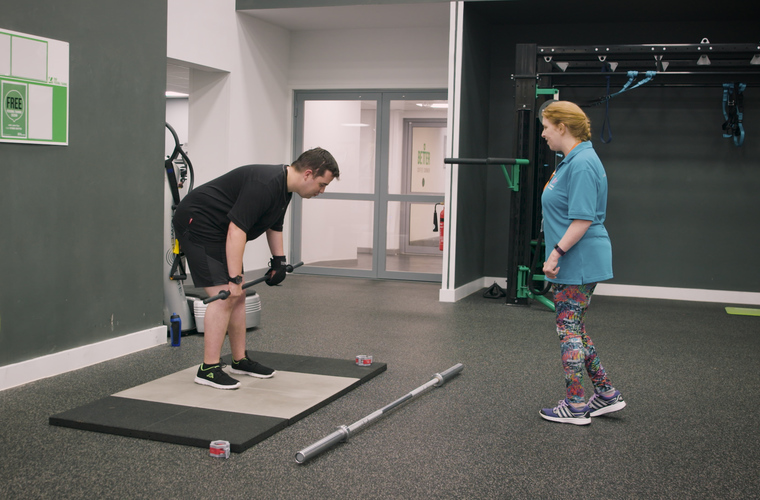 Latest Sport England guidance and FAQs on returning to sport and activity, after government announces roadmap out of current national lockdown restrictions. This includes exemptions for disabled people.
Find out more about 'Sport England: Coronavirus guidance'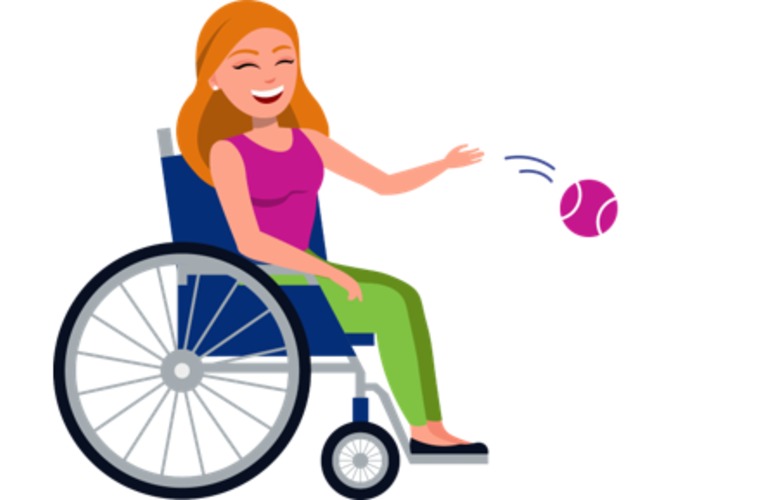 Read more on the top ways you can adapt activities and support more people to move more while at home. The STEP tool is one of the most effective ways to use household items to be active. STEP stands for Space, Task, Equipment and People.
Find out more about 'Adapting activities in the home'
Using Activity Alliance 10 Principles to encourage activity at home
Our Ten Principles are widely acknowledged by sport and leisure providers. Developed in 2014 out of our Talk to Me research, you can apply these for all audiences in all settings. Here, we look at how providers can use the Ten Principles to encourage home activity.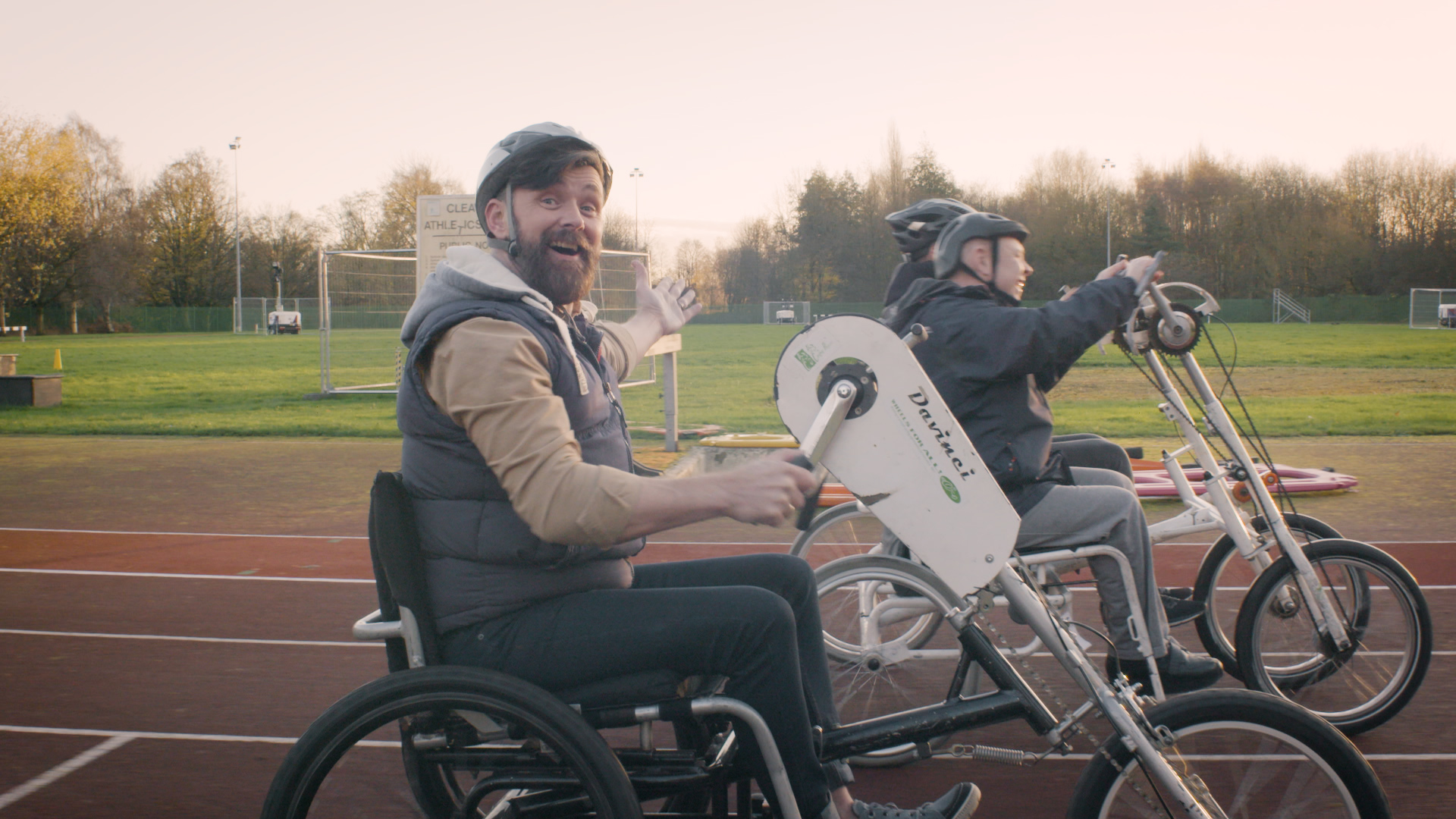 Get Out Get Active: keeping people connected through COVID-19
The GOGA programme is focused on enabling people to get out, get active and connect socially with people in their community. The COVID-19 pandemic is having a big impact on the activities our GOGA partners are able to provide. Across the country our partners are rising to the challenge and continue to support disabled and non-disabled people to stay connected and keep active together.
Read more on how GOGA continues to reach some of the most inactive people in our society.
Support from National Disability Sports Organisations
Activity Alliance members, the National Disability Sports Organisations (NDSOs), have a handy resource to help disabled people and providers to know more about their opportunities. It lists the exciting ways they are reaching more Deaf and disabled people during the COVID-19 crisis and beyond.
Download: NDSO collective response document
Special Olympics GB have produced a Return to Activity Framework - to assist their athletes, clubs, coaches, officials and families to understand the requirements that need to be met in order for training and events to take place safely.
Download: Special Olympics GB Return to Activity Framework 2020