Improvement, development and leadership
We provide expertise and resources for improvement, leadership and organisational development. Our work can strengthen organisations' and people's skills so they feel more capable and confident in engaging disabled people. Our ongoing collaboration with many partners will change the reality of disability, inclusion and sport.
Disabled people remain at the heart of our work. Here are a few ways our team is leading the way to improve organisations, including within sport and leisure.
Engagement and partnerships
Our work in engagement enables partners to be more effective in supporting disabled people to be active. Our team of Advisors supports local and national work, covering nine regions across England. The engagement team helps to improve routes to market, create networks and facilitate partnerships.
Read more about engagement and access useful resources.
Lead
For disabled people to be active for life, it is crucial for the sport and leisure sector to provide excellent, accessible facilities and opportunities. Activity Alliance has a suite of solutions that help to address your organisation's need for improvement in relation to disability equality. Our team of advisors are available to support the process too. One of these is Lead.
The Lead programme will support an organisation to self-assess their offer for disabled people under a range of key themes. These include strategy, leadership, community engagement and people management.
Activity Alliance offers expert advice so you can identify your strengths and areas for improvement. We will help you to create an improvement plan that outlines how you will become a truly excellent organisation for disabled people.
As well as being a stand-alone improvement tool, Lead can underpin an excellent Quest score.
Quest
Activity Alliance worked with Quest to develop the Gplus 37: Active Communities and Gplus 37: Facility Management (Engaging with disabled people and people with long-term health conditions) modules. This will allow sports organisations and leisure facilities, who are undertaking the industry's kite mark for excellence, to have their offer for disabled people thoroughly assessed.
Sport England's Performance Management and Improvement Framework (PMIF) for County Sports Partnerships includes the Gplus37: Active Communities as a Plus Assessment module. This provides an objective check and challenge for Active Partnerships focused on organisational effectiveness and impact in getting more disabled people active.
For leisure and sports facilities undertaking the Gplus37 Facility Management module, passing the module at 'Good' or above will also allow facilities to display the Inclusive Fitness Initiative Mark accreditation.
Click here for more information on the Quest programme.
There are two ways to utilise Lead to improve your organisation's work for disabled people:
The starter's version gives a simple template to plot where you can make improvements to your current offer across the nine Lead themes.
An in-depth version is also available delivered as a facilitated workshop by trained Activity Alliance staff, who will then support you to develop an improvement plan. This version is available to selected Activity Alliance partners.
Please contact our team to find out more. Email Jayant Mistry. Or call 01509 227750.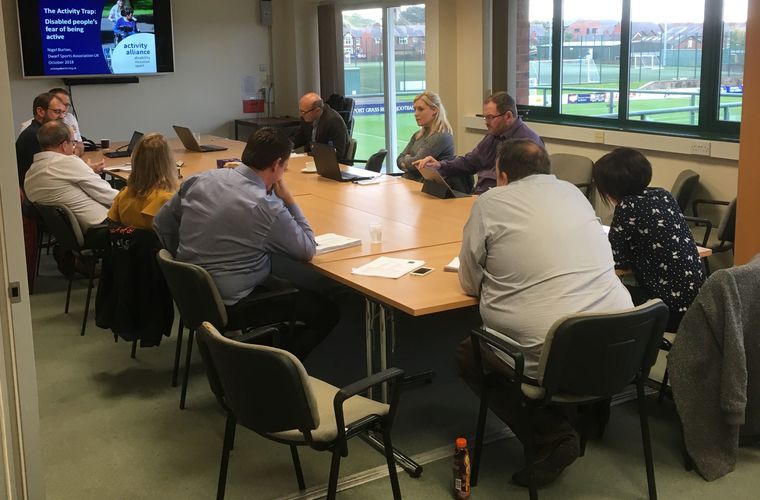 Visit our engagement and partnership page to discover other offers for your organisation.
Find out more about 'Engagement and partnerships'