Asmita, getting out and active in Nottingham
Asmita, 54, lives in Beechdale, Nottingham. Through Get Out Get Active, Asmita has rekindled her passion for swimming and now takes part five mornings a week. Her support for the GOGA programme has been invaluable. She now engages with many local community groups across the city, using her own story as a disabled person, who enjoys being active, to support other people to do the same.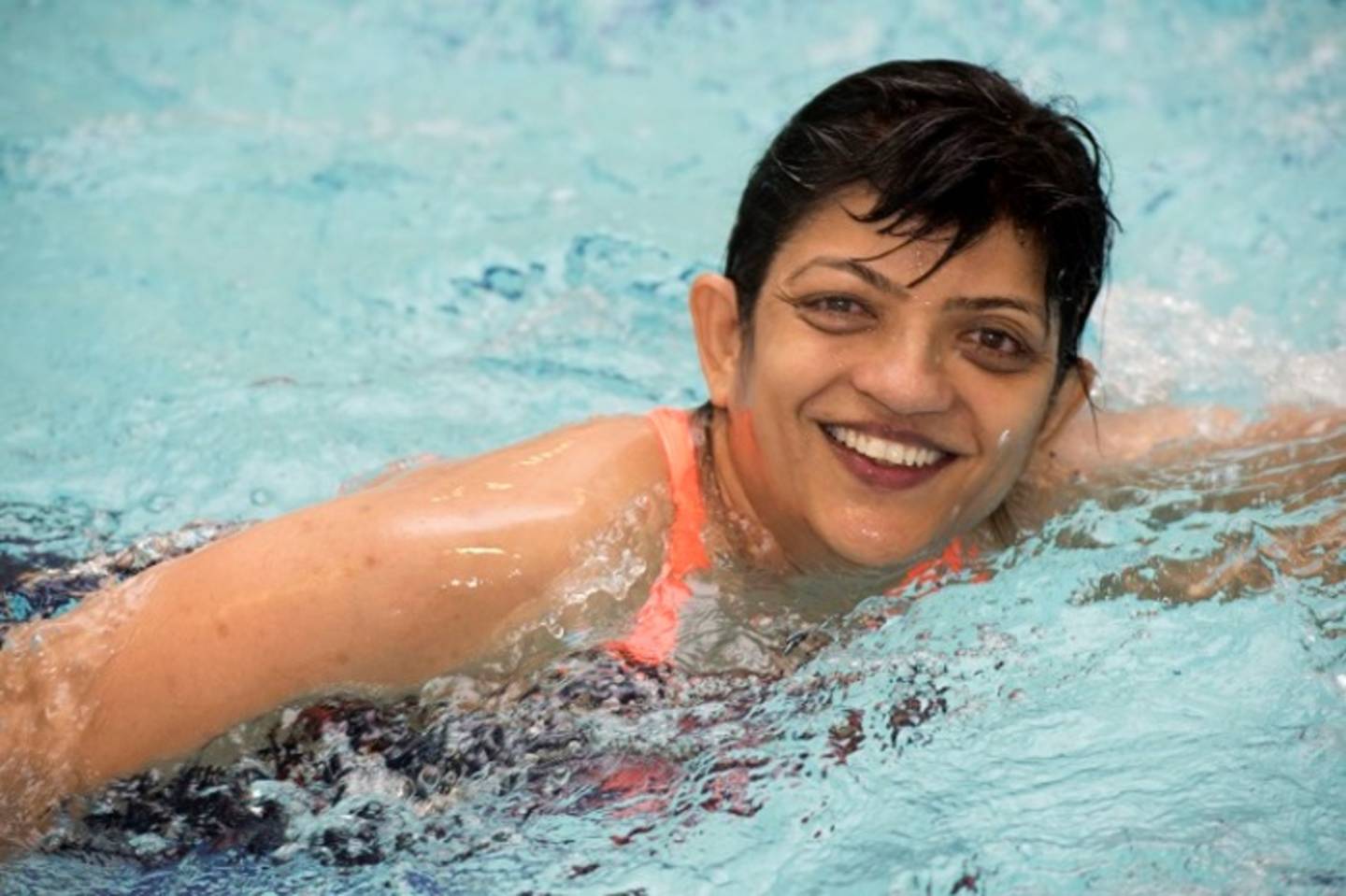 Get Out Get Active (GOGA) is an exciting programme that supports disabled and non-disabled people to enjoy being active together. Funded by Spirit of 2012, all partners are focused on getting some of the UK's least active people moving more through fun and inclusive activities.
Born in Tanzania, Asmita contracted polio at the age of two, resulting in curvature of the spine and reduced ability to walk unaided. Her family moved to England in 1975, where she attended Aspley Wood School, which focused on supporting disabled children. It is there that Asmita learnt to swim as part of her one to one physiotherapy sessions.
With her physiotherapists help, Asmita built up her upper body strength and was soon regularly swimming at Beechdale Baths and taking part in sponsor swims to raise funds for the school. She stopped swimming when she began college, studying English. Later she started as a trainee machinist at Marathon Knitwear, as part of a Youth Training Scheme where she worked for 17 years.
"I wondered how I was going to be able to swim if I couldn't use my legs".
A year ago, her son, Christopher, who is also a lifeguard in Nottingham, encouraged her to start swimming again through Nottingham GOGA. Christopher regularly joins her in the pool before work and with other staff, who support her getting in and out the water.
She continues, "I've lost over a stone in weight and feel better for it, my mood is brighter, I have less stress on my shoulders and I'm loving life!"
A dedicated volunteer for many years working within Nottingham, she first got involved through the Sport England Disability Insight and Sports Partnership Project. This provided valuable insight around Nottingham City's leisure facilities.
As well as the GOGA activities in Nottingham supporting her to get more active it they also presented the opportunity to continue her passion for volunteering. Through the GOGA sessions, Asmita soon became a registered pool helper for Swim for Health supporting others to access the sessions. She then continued to get involved with other GOGA sessions including Golden Gloves and Walking Netball.
"Age is no barrier and I love helping people and giving something back", she says.
Asmita has also become heavily involved in GOGA Nottingham as an advocate presenting at the UK steering group on her journey. She supports the local amputee group in the pool as well as advising on GOGA activities.
Determined to help keep GOGA going in Nottingham, Asmita wants to carry on volunteering. She wants to become a community champion for the programme and develop her swimming and training. She has come up against many barriers during her life but Asmita says tackling these has only made her stronger and more determined to grab every opportunity.
When asking Asmita what she enjoys most about GOGA Nottingham she replied:
"Meeting people involved, catching up on what they do, inspiring individuals to get active and when doing the activities myself it feels great. I enjoy taking part and trying new opportunities. Following the sessions, I feel fantastic, fresh and have greater confidence. In a year, I definitely feel lots brighter, fitter and glowing- thank you GOGA!"
Her advice to anyone wanting to get active:
"Go ahead and do what you can, it's great, it gets you out and involved- go for it"