"Who says you need to mention disability? It's just tennis!"
An exciting campaign from Activity Alliance is calling time on negative perceptions about disability, inclusion and sport, and asks – Who says? Today, we hear from tennis coach, Paul, who features in the campaign films.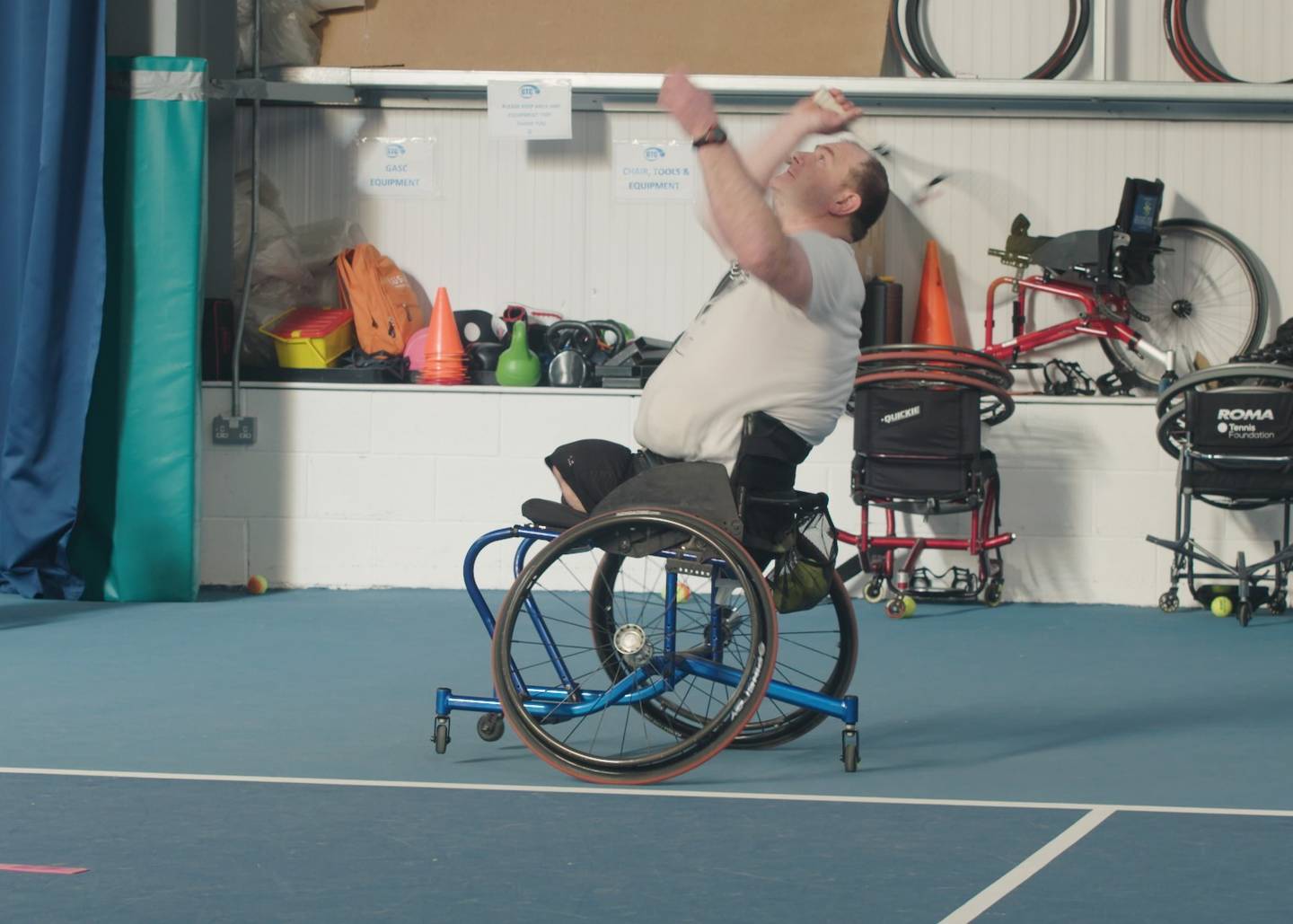 For far too long disabled people have faced misconceptions and presumptions on what is and isn't possible, including in sport. Activity Alliance wants to move the conversations on, open people's minds and shift out-dated views on disability.
Who says? gives positive evidence, resources and guidance to replace these negative ideas. The campaign films focus on six key perceptions from the charity's recent research. Each film provides upbeat insight from a mixture of disabled and non-disabled people.
Paul's story
Who says you need to mention disability? It's just tennis.
Hi, I'm Paul and I am a tennis player and coach at Grantham Tennis Club. Tennis is the first sport I played using a wheelchair. I had my legs amputated six years ago due to a rare flesh eating disease and septicaemia. I have been playing for five years now (minus the year I had off in a coma).
I got into tennis by chance really, after discussing wheelchairs with a guy in a car park. He asked if I had ever tried wheelchair tennis. Next thing I know, we're travelling to Loughborough together to give it a go. Fast forward three weeks and we had borrowed two sports wheelchairs, spoken to the club manager and started Grantham Tennis Club wheelchair programme. I have enjoyed some success out on the court. I am the current Lincolnshire men's county wheelchair tennis champion, and have won singles and doubles titles at a number of national series events.
I began coaching pretty soon after I started playing. With over 20 years' experience of coaching other sports and two young children at home, it felt natural to me. It wasn't long before I was helping in other lessons and started to do my coaching qualifications. I coach both disabled and non-disabled people. It is so rewarding to see players using skills they learnt in my lessons.
As a player, I haven't faced too many bad experiences. I think any negative perceptions people had disappeared once they saw me hit a few balls! In a way, and definitely without trying, I have made it easier for other disabled people to try tennis at our club. As a coach, every now and then one of the kids will ask me a question about my chair or my disability. They're just curious, I give them an honest answer and then we get back to training! I had a bad experience at a school once, where the children had very little exposure to people in wheelchairs. That's why campaigns like who says? are so important because they educate people and open their minds.
At Grantham Tennis Club, we prefer to talk about inclusion rather than just accessibility. Our disabled players are not a separate group; they are fully involved in the club. From running the quiz night to organising our social tennis sessions and working on reception and in the café. What started out as a positive attitude towards disability has now engulfed the whole club, and we wouldn't have it any other way.
Social tennis is a big thing at most tennis clubs. Players pair up to play short doubles matches, then change partners and play again. The difference for us is that our social tennis sessions are completely inclusive. We have disabled and non-disabled people paired up playing matches together. Who says you need to mention disability? It's just tennis!
Our inclusive approach has been good for business too. We're able to offer more sessions for more people of all ages and abilities, including wheelchair tennis, learning disability and autism friendly, over 65s and health focused sessions for mental health and diabetes.
Who says? shines a lights on some of the many reasons why we need to challenge everyone's perceptions, including disabled people's views on what is and isn't possible. I think many disabled people stop themselves from joining in because they think they won't be good enough to go to the Paralympics. When most people are not actually interested in competitive or elite sport, they just want to play for fun. If we all had a more positive attitude towards disability, then surely we would see more inclusive opportunities and clubs for disabled people.
Grantham Tennis Club is proud to support Activity Alliance's who says? campaign. Please visit the campaign page to watch the films and find out how you can call time on negative perceptions about disability, inclusion and sport.
Find out more about playing tennis and opportunities near you, please visit LTA website.