Blog: "Having an inclusive environment can be the difference"
This week Women and Girls in Golf Week is back (1 – 8 August). In its fifth year, the England Golf online campaign continues to promote female participation at all levels and challenge negative perceptions about the game. We're proud to support this campaign and show golf as an inclusive game for all women, including disabled women and girls. Last year we heard from Ellie about how golf built up her confidence. We catch up with her in this latest blog to ask what changes need to happen to enable more disabled women and girls to be more active.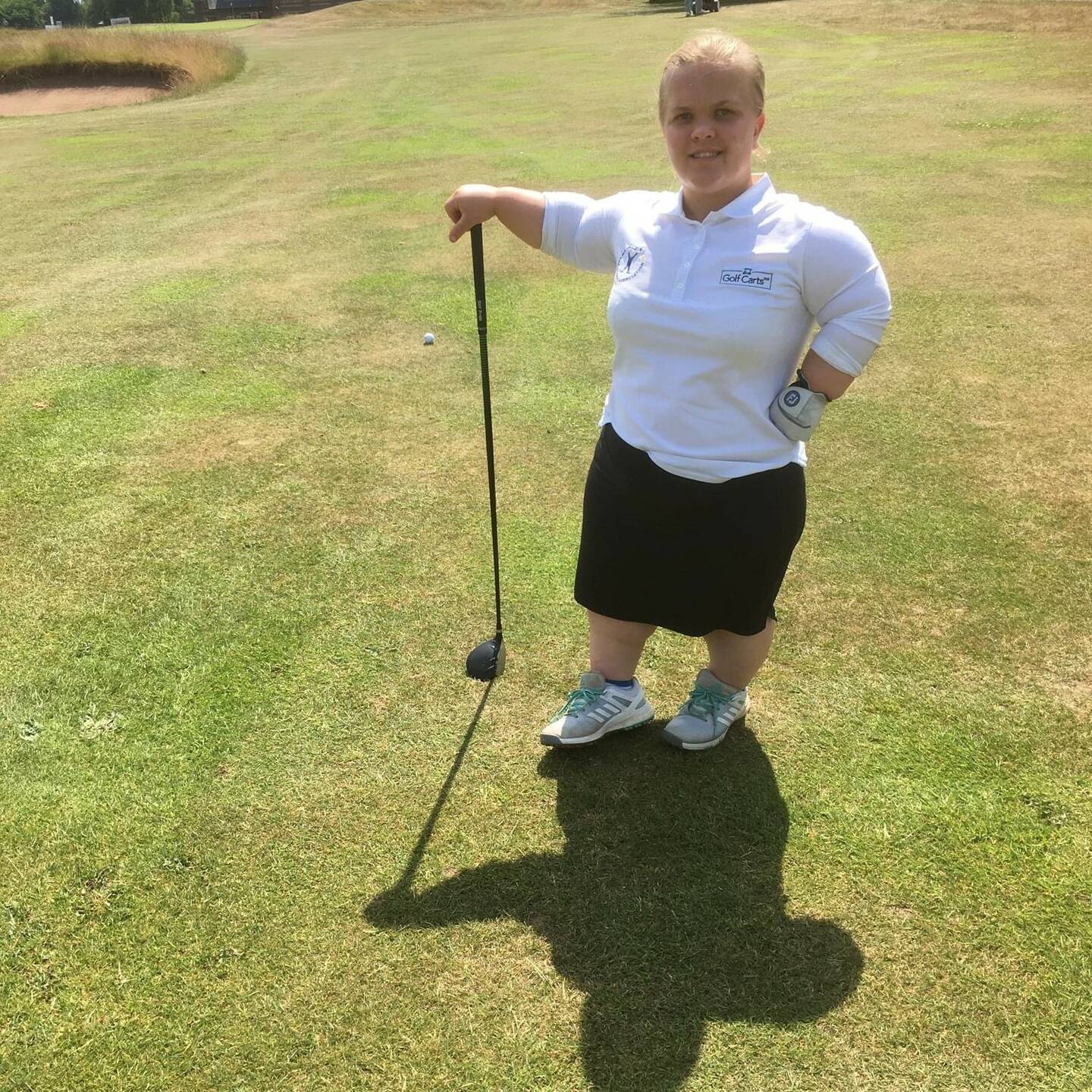 Tell us a bit about yourself
Hi, I'm Ellie and I have been playing golf for about five years. Playing golf has given me so many benefits, I absolutely love being outside now. Being out in the open, and with nature, can really help me if I'm struggling with day-to-day life, or if I have had a hard day.
I have Achondroplasia- dwarfism, which restricts what activities I am able to do due to having short limbs. And I've also from having a big operation on my spine. This means I need someone to support me with walking long distances and I always need a buggy when playing golf.
I'm based at Hagley Golf Club and I play there around 1-2 times a week. I also recently joined the DGA (Disabled Golf Association) and I haven't looked back since. Everyone is so welcoming and kind and accepts you for you.
Why is having an inclusive and positive experience so important to you to remain active?
Playing golf has really helped my social side. I have made some great friends throughout the golfing community. They are always there to support my journey and support me when I might have had a bad day out on the course. Being around people I get on with and being out in the fresh air really helps my mental health.
Having inclusive and positive experiences through golf has played an important role in me remaining active. Having an inclusive environment can be the difference between someone giving the sport up or never trying it out. This is why fairness in sport and activity means everything to me. I have noticed a big improvement in this over the last few years but there is still a lot of work to be done. My thoughts are; just because you have a disability should not mean that you can be taken advantage of. Communities should accept you for you not because you have something different about you.
What changes would you like to see to enable you, and more disabled women and girls, to be more active?
The changes I would like to see to enable more disabled women and girls to be more active is, for society to be more accepting. Places need to be more accessible in order for disabled people to give sport a go.
I have actually been running taster sessions for the Dwarf Sports Association UK at my home club, where people who have short stature can come and give golf a go. The feedback I have received has been brilliant! I see people walking away from my sessions with a smile on their faces, which to me is all you can ask for. Knowing that they have enjoyed themselves and have had a good time is all I've ever wanted to offer to people - we need more of that.
Go to Women and Girls Golf Week campaign page on England Golf's website for full details on how to share stories, get involved and watch this year's promotional video.