Adapting activities
There are many ways to adapt activities so more people can move more in their home or garden. The STEP tool is one of the most effective ways to use household items to be active. STEP stands for Space, Task, Equipment and People.
(STEP © 2002, Youth Sport Trust. All rights reserved.)
There are many ways to enjoy an active lifestyle. This includes adapting activities so everyone in the household, disabled and non-disabled, can take part together. With a few simple tweaks, activities can quickly become a part of everyone's daily routine.
Activity Alliance has released six new STEP graphics to support disabled people to #StayInWorkOut. Ideal for disabled people, organisations and activity providers alike, the graphics show how you can apply the STEP tool to sports and activities.
Click here to view information on adapting activities in alternative communication formats - including British Sign Language translation, audio and easy read format.
Using the STEP tool

STEP stands for Space, Task, Equipment, People. It's a simple way for making changes to activities. It's commonly used in the PE and school sport setting so that everyone can join in and take part together. But the principles work in all settings, especially in the home.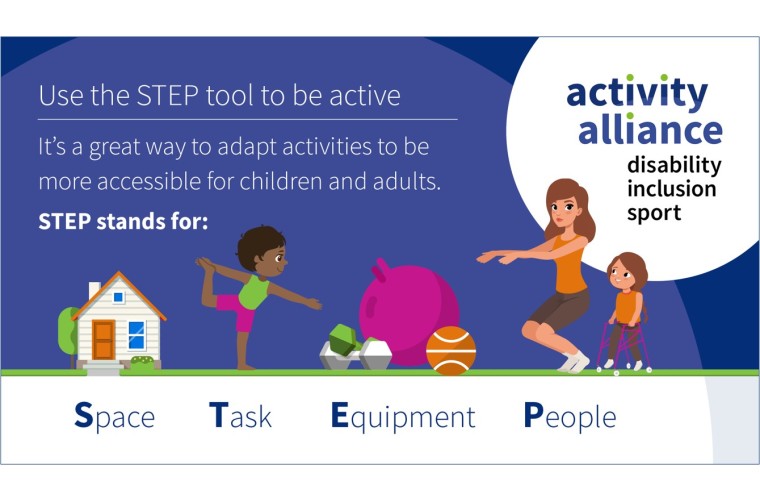 You can change one or more elements of the activity – that's the Space, Task, Equipment or People, to make it more accessible and inclusive for everyone.
Disabled people, families and friends

One in five of us has an impairment or long-term health condition. Many households are already accustomed to adapting their environment for everyday living. As well as the many online activities on offer, there are ways to be active by using household items, on different surfaces.
Organisations and activity providers

Activity Alliance runs programmes that educate and encourage communities to deliver inclusive activities so everyone can join in. They support disabled and non-disabled people to be active together at a grassroots level. This includes Get Out Get Active and our training opportunities like the Sainsbury's Inclusive PE and Inclusive Activity Programme.
Watch the STEP video for teachers
This video guides the education workforce through the STEP Tool. It features on the Sainsbury's Inclusive PE Training online platform, alongside a range of interactive e-learning resources for users to access. The Sainsbury's Inclusive PE Training Programme improves PE and trainee teachers and other school staff's knowledge and skills. It aims to boost their confidence in providing a high quality PE curriculum for all young people. The goal is to ensure all pupils are appropriately challenged and supported.
Use and promote STEP in your work


We will be sharing the STEP graphics and ideas across our social media channels.
We're keen to see how you're using the STEP tool to adapt activities at home and for your online workouts. Share your photos and videos with us on social media. Tag us in your posts on:
We have compiled a list of exercise advice, workouts, videos and activity guides to support disabled people to move more while at home. Visit our active at home page.
If you would like to receive a copy of the STEP graphics to use, please email news@activityalliance.org.uk or call Courtney Perks, Activity Alliance Communications Advisor on 07896 998171.